Beirut Campus: Directions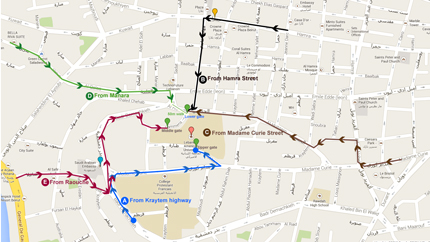 If you're walking down Hamra street in the direction of traffic, you can turn left one block after the Crowne Plaza Hotel; keep going straight (uphill) until you reach LAU's lower gate.
Another way to reach LAU is via Koraytem's main road. For example, if you're coming by car from the coastal boulevard, you can turn inland at KFC, near the Pigeon Rock (Raouche). Drive uphill on that winding road, past the Safir Heliopolitan hotel and Future TV and you'll reach the main Koraytem artery. Turn left and keep going until you reach an intersection. From there you can walk to the lower gate, about 50 meters against traffic direction. (The intersection is also reachable from Sadat street, which runs north-south starting on Bliss street, and cuts Hamra street at its end.)
The upper gate is on a narrow street that is easily accessible to pedestrians from Madame Curie Street. To get on Madame Curie Street, turn right on the main Koraytem road just before the Saudi embassy. Then turn left and follow the winding road that takes you around the School of Business and Library buildings; you can keep going to reach the lower gate.
Note: all the landmarks and streets mentioned here appear on our annotated Google map.
Go back to the Information for visitors page.
View campus and area maps, and use an interactive map to find an office or facility.
See pictures and lists of key buildings, offices and facilities.
Find practical information-directions, parking, office hours, and more.
Last modified: April 13, 2018