Beirut Campus: Information for Visitors
Getting there
The Beirut campus is in the Koraytem district, four blocks south of Hamra Street.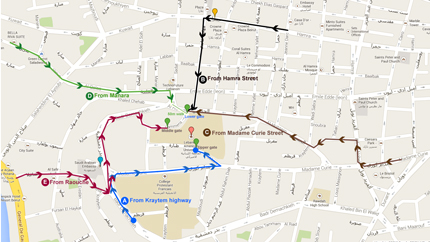 Click on the image above to view the suggested directions. Alternatively, read the directions.
As of 8 a.m., traffic is usually heavy in the area. You could spend about 30 minutes within Koraytem or Hamra to reach the university or find a parking spot.
If you're coming by taxi, most service taxi drivers know the university as either "LAU" or "BUC" (as the university was known until the 1990s).
Parking
You can park on the streets around the university in areas marked with parking meters, for a fee that ranges between 250 LBP for 15 minutes and 2,000 LBP for four hours. Excess time will be penalized by a fine of 10,000 LBP, issued by parking meter attendants. However, it's usually difficult to find such space, and occasionally parking is forbidden in certain places for security reasons.
There are several privately operated parking lots in the area. They are generally open from 7 a.m. to 7 or 8 p.m. Some charge monthly fees as high as $80, others charge L.L. 2,000 or L.L. 3,000 per day.
The Beirut campus has an underground parking facility below the Business Building for faculty and staff. There is also an external parking lot facing College Protestant on the Upper Campus, mainly accommodating students and visitors, and two parking lots for LAU shuttles and authorized personnel facing the lower gate.
Office hours, holidays
Regular office hours are 8:00 a.m. to 4:30 p.m., with a lunch break from 12:30 to 1:00 p.m. The Business Office opens to the public from 8:30 a.m. to 12:00 p.m. and from 1:30 p.m. to 3:00 p.m.
In summer (July-September), offices open on a shorter schedule: from 7:30 a.m. to 2:30 p.m. The Business Office is open to the public from 8:30 a.m. to 1:00 p.m. in the summer.
Labs and libraries operate on different schedules.
The university closes during the official holidays listed on the academic calendar. Additional closure days that may arise throughout the year are announced here as soon as they're decided.
Finding offices and people on campus
Key offices, services and facilities are listed on this page about the campus' buildings.
You can also use the campus maps to identify the place(s) you are visiting.
If you'd like to contact a staff or faculty member, you can find their phone extensions and email addresses in the directory.
Where to eat
The campus cafeteria offers a variety of fast food and daily meals, catering to students, faculty and staff whose lunch time is usually short. Catering services are provided by Shtrumpf. An LAU-appointed nutritionist monitors cooking methods and ingredients.
The cafeteria is in Nicol Hall ground floor. It opens from 7 a.m. to 7 p.m. Numerous restaurants, cafés and snack bars are found within walking distance of LAU.
You can also grab a quick bite at the cyber-café adjacent to the cafeteria, operated by Caribou Coffee, and offering light snacks, sandwiches and refreshments.
Payphones, cash machines, etc.
There are two payphones on campus—on the south entrance of Irwin Hall and on the sidewalk outside Malik's Bookshop by the lower gate. These phones work with calling cards that can be purchased at several stores around campus.
The closests ATMs are: at Byblos Bank (about 20 meters from the lower gate) and at SGBL, Bank of Beirut and Fransabank on Sadat Street.
Hotels near campus
LAU has arrangements with a number of nearby hotels. For options, rates, and other information please contact the Hospitality Department at extensions 1414 and 1740, or by email: hospitality.department@lau.edu.lb.
View campus and area maps, and use an interactive map to find an office or facility.
See pictures and lists of key buildings.
See lists of key offices.
Last modified: February 21, 2018