Byblos Campus: Information for Visitors
Getting there
The Byblos campus lies in the Blat Municipality of Jbeil (Byblos).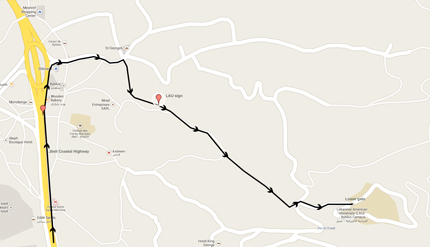 Click on the image above to view suggested driving directions. Alternatively, read the directions.
Visitors will be required to check in at the lower gate. Entrance through the upper gate requires a parking permit.
Parking
There are several options for parking at and around the university. On-campus parking is available. There are free parking spaces alongside the road leading to the lower gate, as well as parking lots both on the upper and lower levels, for a daily charge of L.L. 2,000 (lower level on the left). Students may purchase a parking permit for $80 per semester and $30 per summer module (upper level).
Office hours and holidays
Regular office hours are from 8:00 a.m. to 12:30 p.m. and from 1 p.m. to 4:30 p.m. (the lunch break is from 12:30 to 1:00 p.m.). The Business Office is open from 8:30 a.m. until 4:00 p.m. with a lunch interval from 12:00 to 1:30 p.m.
The summer office hours are shorter: 7:30 a.m. to 2:30p.m. The Business Office opens to the public from 8:30 a.m. to 1:00 p.m. in summer.
Labs and libraries have their own schedules.
The university closes for official holidays that can be seen on the Academic Calendar. Additional closure days that may arise throughout the year are announced here as soon as they're decided.
Finding offices and people on campus
Key offices, services and facilities are listed on this page about the campus' buildings.
You can also use the campus maps to identify the place(s) you are visiting.
If you'd like to contact a staff or faculty member, you can find their phone extensions and email addresses in the directory.
Where to eat
The cafeteria offers a wide selection of foods to choose from. From fast food to hot platters, there is something for all tastes. Shtrumpf provides catering services to LAU. The cafeteria is located in a building of its own directly facing the upper gate. It serves between 7:00 a.m. and 7:00 p.m.
LAUers can also grab a quick bite at the cyber-café in the Gilbert and Rose-Marie Chagoury Health Sciences Center, operated by Caribou Coffee and offering light snacks, sandwiches and refreshments.
Several local restaurants deliver to the campus (Rif Grill, Ksar, Subway, etc.).
Payphones, cash machines, etc.
There are two payphones on campus. One can be found at the lower gate entrance, and the other outside Block A. In order to make a phone call using the payphone, you must have a calling card, which can be purchased at nearby stores. A cash machine is available in the Science Building.
View campus and area maps, and use an interactive map to find an office or facility.
See pictures and lists of key buildings.
See lists of key offices.
Last modified: April 13, 2018