A career in the works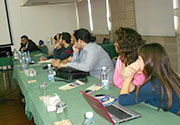 Itani capitalized on the importance of volunteering, the ability to create and pursue independent work projects.
November 20, 2012—
Hosted by the Career Guidance Office at LAU, Dr. Khaled Itani, general manager of the Lebanese Association for Advanced Sciences, presented a lecture entitled "Career Guidance to the Job Market" on the Byblos campus on November 14, 2012. The presentation addressed the challenges of job-hunting upon graduation, linking it to the shift in the needs and demands of the local job market.
According to the United Nations, globally, 80% of university graduates in recent years are working in a field that is unrelated to what they majored in. This, stresses Itani, is one of the most prominent problems in the Lebanese job market.
"It's never too late to change your major if you have misgivings about your field of study," advised Itani. "It's wiser to transfer when you're still in university rather than end up working in a completely different field after you graduate."
Itani called on the participants to be wise when choosing a career path, and identify their own strengths and weaknesses before going on the hunt. "You can't succeed if you're not passionate about what you do," he said. "But you also have to be reasonable and practical: Are there ample career opportunities in the field you would like to work in?"
Itani capitalized on the importance of volunteering, the ability to create and pursue independent work projects, and establishing healthy connections with associates and coworkers in order to make way for a successful career. "You will realize once you start looking for a job that your interpersonal skills are as important as your professional skills, if not more," said Itani.
"Many of us are confused as to what to expect after graduating," said Sylvio Hleiss, a third year mechanical engineering student. "I attended this lecture because I was curious about where the Lebanese job market currently stands, especially since I'm graduating next year."
Career Guidance Officer Rana Sakr who coordinated the event hopes to bring the students one step closer to bridging the gap between education and professionalism. "We want to equip the students with the skills they need not only to meet the demands of the job market, but also to lead successful careers and distinguish themselves from their peers," she said.