A family of entrepreneurs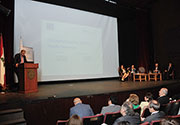 A great focus was put on the role of women as both drivers of family business and successful entrepreneurs.
Click on photo for larger version.
June 17, 2013—
Under the patronage of Minister of Information Walid Daouk, LAU's Institute for Family and Entrepreneurial Business hosted an "Entrepreneurship and the Family Business" conference on May 29, that brought together prominent members of the business and academic communities.
Moderated by Dr. Josiane Fahed-Sreih, director of the Institute, the conference was attended by dignitaries, faculty and aspiring business owners.
In her opening remarks, Fahed-Sreih focused on the increasing importance of entrepreneurs providing solutions to the new global economic landscapes. "An entrepreneurial spirit is a key driver of family business," she continued.
A substantial focus was put on the role of women, both as drivers of family business and as successful entrepreneurs. Globally, female entrepreneurs lead one in five startups with the ratio of female founders to male climbing each year.
"Many successful companies have come to find that including women on decision-making boards increases the chances of success," said May Makhzoumi, president of the Makhzoumi Foundation. "They bring a unique perspective that gives them a competitive edge."
This added-value is highly needed in times of economic uncertainty for family businesses. Daouk, who also happens to be an LAU alumnus, said the best way to secure a successful future for family business is to plant an entrepreneurial spirit at a young age.
"In family business, growth is important, but succession planning remains of the utmost importance, as it is an art, and I would say a science, that only a few succeed in", he added. "Treat your business as a business and your family as a family", he said.
Participants of all ages took the opportunity to probe the experienced professionals present at the event about the challenges they have faced and the solutions they came up with. For Razan Hilal the event was a great opportunity to network and meet like-minded people.
"Entrepreneurship runs deep in LAU's veins," said Provost Dr. George K. Najjar before adding, "As an academic entity serving its community, we are here to share and work together in pursuit of better opportunities."
The day-long conference was sponsored by "El-Khoury & Partners Legal Counsel."