Business students visit Beirut port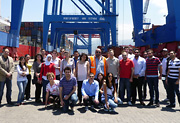 The international marketing students with their instructor Nadia Azzam (1st row, 1st from left), and Beirut port staff.

The students witnessed how the cranes lift and drop containers at the port.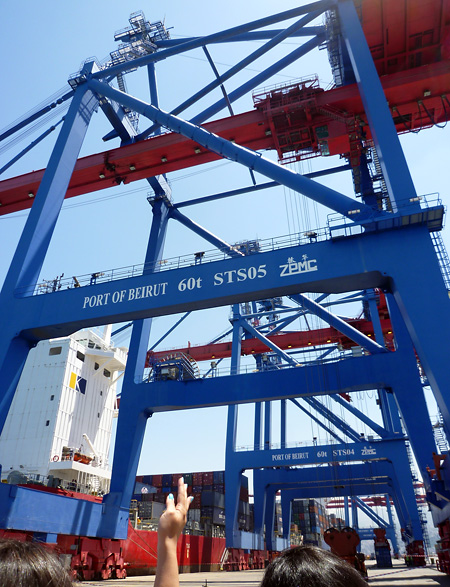 Students asked many interesting questions while observing the unloading of the containers from the vessels to the port grounds, according to Azzam.
Click on any photo above to view all three images.
June 10, 2011—
To widen their exposure to hands-on situations, 33 business students went on a field visit to the Beirut port on May 21.
Nadia Azzam, a part-time instructor at the School of Business, organized the trip for the students taking her International Marketing course in the spring semester. "The idea came as I was trying to take the students out of the book," Azzam says.
Dr. John McGill, chairperson of the Department of Management, Marketing, MIS, International Business Systems, and Family and Entrepreneurial Business at LAU Beirut, agrees that business students learn best from experience. Quoting Confucius, he says: "I hear and I forget. I see and I remember. I do and I understand."
After a check of the special entrance permits by the port authorities and Lebanese security forces, Maroun Abi Aad from the port management handling and storage facilities welcomed the students and accompanied them throughout the visit.
The first stop was at the Beirut Container Terminal Consortium Center, where the terminal manager, Segean Jabbour, an LAU graduate, explained how vessels are closely followed up from their respective port of departure until they reach the Beirut port to prevent accidents, delays and traffic jam.
Jabbour and his team explained the terminal's operations and how the container tracking system is used to optimize the shipping, loading and discharge procedures.
"Now, after I have visited the port, I learned better about the process shipments go through before the goods reach the buyer. I realize now the importance of the Beirut port in the region," said student Mohammad Imad Sbeity.
Another student, Pascal Mantoufeh, added: "I was fascinated by the advanced technology used at the container terminal and how well organized the port management is."
Then, a bus took the students, who were accompanied by additional port security members, closer to the cranes, where they witnessed how the downloading of the containers was done.
The students were excited by the idea of going up on one of the cranes. However, this was not possible as the group was large and not fully equipped with helmets and special phosphorescent jackets.
The students' interest in the visit was reflected by the numerous questions they asked.
This is not the first time Azzam is organizing field trips for her students. In December 2010, she accompanied her marketing students to a certified leading company specialized in a full range of international marketing services. Detailed explanations of shipping, packing, loading, and customs formalities preceded a tour of the company's warehouses, packing and storage facilities.
"I am planning other field visits in the future as they strengthen the exposure of our students to the business environment and give them the chance to evidence how the theories learned in the classroom are translated and applied into real-life business situations," Azzam says. "In addition, these field visits encourage our students to network with successful market leaders."