Civil engineering students receive hands-on training in Dubai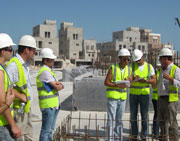 Six LAU civil engineering students and another six from New York's Syracuse University participated in an annual internship program in Dubai last month, organized through an agreement with the Dubai Contracting Company.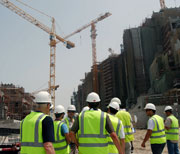 The students were sometimes taken to more than one construction site each day.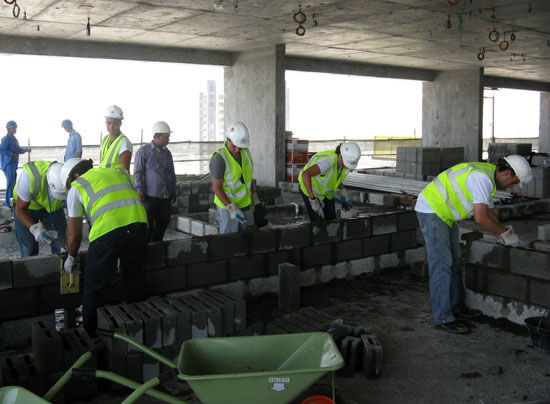 A team of six students, three from LAU and three from Syracuse University, work side by side on the Guardian Towers' construction site in Abu Dhabi.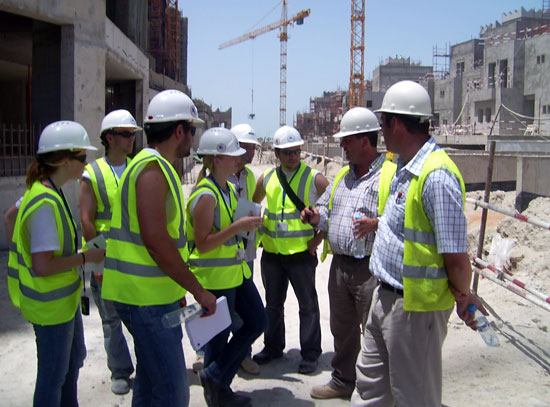 Aside from the engineering skills they developed, students say they also benefited from a rich cultural experience.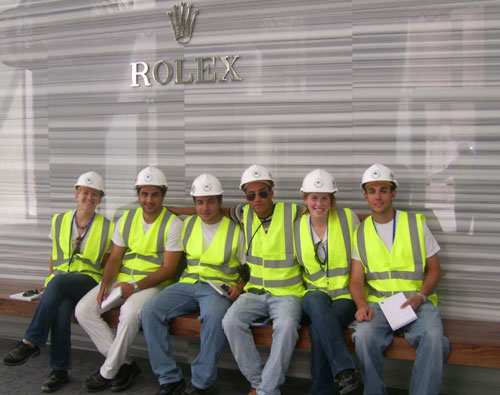 One of the teams outside the nearly completed Rolex Tower in Dubai.
Click on any photo above to view all five images.
July 8, 2010—
Six LAU civil engineering students successfully completed an intensive internship program in Dubai last month, working alongside six peers from New York's Syracuse University.
The program offered a blend of hands-on work experience and cross-cultural enlightenment for LAU students Fouad Amer, Charbel Dahdan, Karim El Khoury, Elie El Koueik, Carl Farjallah, and Carl Zeinoun.
Each day following their departure from Lebanon on May 14 till their return on June 18, the students grouped up in teams and visited construction sites throughout the rapidly developing emirate. They learned the ins and outs of contracting from professionals with the Dubai Contracting Company, which began sponsoring the annual internship program last year.
"We saw every step required in the contracting industry," says Farjallah. "We put ourselves in the shoes of the foreman, the project director, and everyone included in the units responsible at the sites."
When they were not visiting sites, the students kept busy preparing a series of presentations and reports, and studying for tests required for their almost daily classroom lectures.
"It was pretty hectic," Farjallah says. "It was more of an academic program than an internship."
Dr. George E. Nasr, dean of LAU's School of Engineering, says that this year "the technical content of the program was enhanced to reflect the latest trends in the engineering profession."
Nasr adds: "This year, we have increased the number of participating LAU students from three to six. Also, achievement awards were initiated this year to recognize outstanding student performance."
Throughout the duration of the program, the students took it upon themselves to keep an updated blog of their activities, to which both the LAU and Syracuse students contributed with photos and descriptions detailing their experiences.
"We launched the blog in part so that the students participating next year can know what to expect," says El Khoury.
The students say they developed a relationship with the company's CEO, Abdallah Yabroudi, who has also been a donor to LAU's School of Engineering, and also quickly formed bonds with their American peers.
"It was a rich experience for us to hang out on a daily basis with Americans. We learned so much about our differences and learned to accept those differences," El Khoury says, adding that they have kept in touch with their peers following their return, and are even making plans to meet again.
"It was more than just an internship," El Khoury adds. "It was more like a life experience."
According to Dean Nasr, "the technical and cultural content of the program will continue to be updated to ensure high quality professional experience for participating students."
He adds: "We are planning in the future to enrich the cultural part of the internship program with a visit to Lebanon and LAU, where students can gain a deeper understanding of issues, traditions and cultures from varying perspectives."