Continuous learning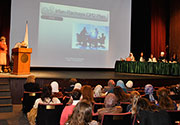 Over a hundred faculty and staff members from educational institutions located all over Lebanon attended the event.
Click on photo for larger version.
March 14, 2013—
For the 26th year running, the Department of Education, in collaboration with Levant Distributors, hosted a two-day workshop on continuing professional development (CPD) targeting school principals and schoolteachers on March 1-2, 2013.
Defined as "the means by which people maintain their knowledge and skills related to their professional lives," CPD is the building block of modern-day education. Over a hundred faculty and staff members from educational institutions located all over Lebanon attended the event, which tackled the importance of CPD, classroom management, the teaching of social studies, and the use of technology in schools.
Echoing American slam poet and teacher Taylor Mali, Chairperson of the Department of Education Dr. Rima Bahous asked an eager audience, "What do teachers make?" and with assertiveness said, "We make kids wonder. We make them question and we make them criticize. We make them read, read, read. We make a difference."
Armed with even the scarcest of material resources, teachers can indeed make a difference - Ghada Feghali is one of these. Biology teacher at International College she is the founder of MMKN, an NGO that aims to disseminate knowledge, culture, and social awareness among Lebanese communities.
"50% of students in Lebanese public schools drop out after the 9th grade, and this is only aggravated by the gap between public and private schools," said Feghali. "Our objective is to bridge this gap by reinforcing programs and curricula in public schools."
With over 60 student volunteers — some of whom are LAU students — MMKN is well on its way to achieving its goal, and is currently reaching close to 600 students from eight different schools all over Lebanon. Since 2010, it has also helped to refurbish several educational facilities, and the public schools it has assisted have witnessed a significant increase in pass rates.
Conversely, other speakers, such as Sheikh Saleh Abou Mansour of Al-Irfan school, stressed the importance of knowing the difference between "training" and "development." "Partaking in different trainings or workshops doesn't necessarily mean you are growing as a person and as an educator," he said. "Indeed, the best indicator of our success as teachers is the performance of our students. We cannot be doctors who give their patients the same medicine. Every student is different, and his or her needs are thus also inherently different."
The workshop also tackled the importance of managing learning environments, the teaching of social studies, and how to integrate technology in the classroom and in the curriculum.
"This workshop has been truly inspiring," said Mona Tawil, a seventh grade teacher at International School al-Koura. "As teachers, our mission goes far beyond the classroom. It's part of our daily life."
Echoing the audience's dedication, Dean of the School of Arts and Sciences Dr. Philippe Frossard spoke of teaching as a "calling" rather than a "profession."
"Education is the most noble initiative and undertaking in the world," he said. "Every human being has his or her own set of skills and talents. It is the mission of education to bring them out."