Countering violent extremism, building a digital force
International experts and more than 70 participants gather at LAU for the fourth edition of the Media and Digital Literacy Academy.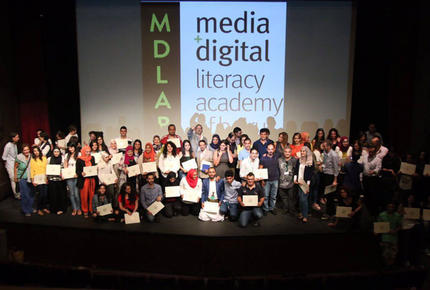 In the light of recent events, this summer's Media and Digital Literacy Academy (MDLAB) at LAU focused on an exceptionally important theme: spreading media literacy to counter growing extremism among the youth.
"If we possess the necessary critical thinking to grasp how media language works, we can then understand the strategy behind the extremists' message," says Jad Melki, associate professor of journalism and media studies and chairperson of the Department of Communication Arts. "Once we know how to read their message, we can respond to it more effectively." Melki's lecture at MDLAB, entitled "The Communication Design of Modern Terrorism: The ISIS Media Strategy," provided insight into their propaganda tools and the means to deconstruct them.
Alongside Melki, a pool of internationally renowned experts presented their latest research to a public composed of 50 graduate students and academics from the region and 25 high school teachers and students.
Hosting MDLAB is in line with LAU's goal to pioneer media literacy in the region. "This concept is still not very well known in the region and not all educators possess the necessary skills to teach it," says Melki. "The academy provides the necessary knowledge to empower them."
The ten-day event, held in August, was open to the general public free of charge thanks to funds from the European Union and the support of the Deutsche Welle Akademie, the Federal Foreign Office, Germany, as well as the German Academic Exchange Service (DAAD).
The lectures tackled a wide array of topics oriented toward raising awareness of media language and stimulating civic engagement, while the hands-on workshops taught the participants how to use a variety of tools to produce multimedia content, such as podcasts, digital stories, blogs and others.
Raghda Al Zein, journalism instructor at the American University of Science and Technology (AUST), attended the summer academy with some of her students. "I find it an extremely eye-opening experience and I encourage my students to come in order to find inspiration for their final projects," she says.
A group of 15 LAU communication students were involved in the organization of the event, making it available also to those who could not attend. Second year student Issa Khanji videotaped the lectures and uploaded them on YouTube. "I could attend the lectures and at the same time work on my video skills," says Khanji. "It was a win-win situation."
All participants were also expected to complete final projects and present them by the end of the second week. Their acquired knowledge in media activism, digital media storytelling, news framing, privacy and surveillance, and media literacy research will stay with them well after their completion of the academy.
"So far, MDLAB has succeeded in introducing media and digital literacy to 30 Arab universities and a handful of schools in 12 Arab countries," says Melki. "By 2020, we hope that every Arab country will have at least one university and one school that teaches media and digital literacy and that, in the long term, this form of critical teaching is generalized to all schools and universities in the region."