Crafting the winning resume and cover letter
Students learn the skills of preparing for job applications, at a presentation organized by the Byblos-campus Career Guidance Office.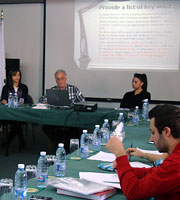 Nabil Salman, LAU business instructor, gives a presentation to students on how to craft winning resumés and cover letters.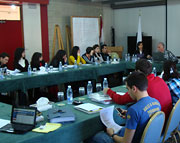 The event was organized by the Byblos Career Guidance Office.
Students crammed into a Byblos-campus classroom for a presentation on writing successful resumés and cover letters, to get an edge as they transition into the competitive job market, on March 31.
Led by LAU business instructor Nabil Salman, the lecture explained the foundations of resumé writing, beginning by distinguishing a resumé from a CV, before explaining how to tailor each resumé in order to catch the eye of potential employers.
"You can imagine how many people are going to be competing for jobs, so [ask yourself] what makes you different from anyone else?" Salman asked the students before beginning the presentation.
Companies today are more frequently using electronic systems to search through online databases of resumés for potential candidates. In order to be considered, Salman said, the resumé should include keywords that match the description of the desired work.
He also advised students submitting resumés by email to paste the text directly into the email body rather than sending the resumé as an attachment in order to avoid having the email get caught in a spam filter.
As for the use of language, Salman advised students to use "action verbs" when starting a resumé to catch the attention of the reader, and distributed a handout of action verbs found online.
"Nouns are dead," Salman said. "Action verbs give life to your engine."
One of the most critical elements to consider when applying for a job — something that is completely ignored in Lebanon — Salman pointed out, is the use of the cover letter. It enables applicants to introduce themselves and highlight the key points of the resumé in a few short paragraphs.
"Writing the cover letter is much more personal than the resumé," Salman said. "This is where you ask for the job — it's a selling letter."
A number of aspects must be considered when writing a cover letter, he said, such as keeping in mind what the employer is looking for, then crafting the letter to be consistent with the company's needs.
The event was organized by the Byblos-campus Career Guidance Office. In addition to offering services to meet the individual needs of students, the office frequently organizes events to help students prepare for their futures.
"Ensuring our students leave the university prepared to take advantage of the opportunities around them, in order to lead successful careers, remains our top priority," says Rana Sakr, career guidance officer in Byblos.
The office has launched a series of presentations this semester by well-known companies in Lebanon that are actively looking to recruit. "It all starts with knowing how to write a winning resumé," Sakr says.
Students who need more information about career guidance services can contact Rana Sakr (Byblos campus) at: rana.sakr@lau.edu.lb, or Aya Mir (Beirut campus) at: aya.mir@lau.edu.lb.