Engineering graduate sells consulting firm to Ernst & Young France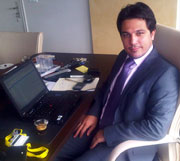 Fares Abi Nader, an LAU engineering graduate (2003), sells the Lebanon and France offices of ReportEdge, a consulting firm he co-founded only two years ago, to industry giant Ernst & Young France.  
April 7, 2010—
Fares Abi Nader, an LAU engineering graduate (2003), went on to earn a master's degree in France, and later worked for two years at a consulting company. Driven by the goal of offering a consulting firm that places an emphasis on integrating technology into its service and product offering, he partnered with industry colleagues Stephane Medard and Gael Espinos to start a France-based consulting firm called ReportEdge.
The trio worked hard to establish offices in Lebanon and the United Arab Emirates as well as in France and Singapore, and such was the fruit of their labor, that ReportEdge was recently bought by industry heavyweight Ernst & Young.
Abi Nader says a few things motivated him to start ReportEdge so early on in his career: "I was working in one of the big four [financial] companies in France. On one of my projects — about Business Performance Management (BPM) — I was working with a team of 30 people. The project was very successful, and myself and two of my other associates decided that since it was a success, we would open our own consulting firm, assisting clients on projects connected with reporting and consolidation, business intelligence and business performance management offers."
"I was [into the] technical [aspects] and the other two were [into] functional and managerial respectively, so it was a recipe for success. It was a bit opportunistic and it was also a bit crazy — but it was something new we wanted to try, as BPM is a new concept," he says.
Clearly the firm's understanding of local markets where it has offices was attractive for Ernst & Young France, which acquired 100 percent of the shares of ReportEdge France and Lebanon. The Lebanese office will be an offshore service entity for Ernst & Young Fralux. Separately, BI Continuum acquired 100 percent of the shares of ReportEdge Asia Pacific Japan.
Abi Nader explains that the appeal of a firm like ReportEdge to Ernst & Young was simple in terms of what attracted Ernst & Young to the firm: "They bought it because of the company's assets which were its people."
He summarizes Ernst & Young's interest in the firm as being based on their recognition that ReportEdge would offer an "enrichment of its [Ernst & Young's] offer in BPM, enlargement of their team, and acceleration of growth by creating synergy between IT and PI (Performance Improvement)."
Dr. Iyad Ouaiss, an assistant professor of electrical and computer engineering at LAU, recalls Abi Nader's diligence and drive as a student. Abi Nader did his final-year project under his supervision, and kept in touch with him afterwards. Ouaiss says that Abi Nader struck him as "one of the few students who are not focused only on achieving high grades but also on understanding well the material. In his senior project, he and his partner implemented a novel camera-mounted robot design controlled through the web."
He adds that Abi Nader "went to great lengths finding information from several sources, synthesizing ideas, building a working prototype, and doing a great job at coordinating the work with his partner as well as demonstrating their achievements."
Dr. George E. Nasr, dean and professor
at LAU's School of Engineering, is proud of the achievements of one of his school's recent graduates. He says Abi Nader was a very good student, "ambitious, with high aspirations to succeed as an engineer."
He adds: "We really instill in our students, in addition to technical knowledge and being exposed to social sciences and humanities, a commitment that hard work, focus, determination, and perseverance are the keys to bringing a project to successful completion."