Excellence in medicine and beyond
Dr. Lynn Eckhert, outgoing interim dean of the Gilbert and Rose-Marie Chagouri School of Medicine receives the 2012 Alma Dea Morani, M.D. Renaissance Woman Award.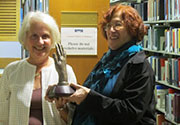 Dr. Lynn Eckhert receiving the award.
Dr. Lynn Eckhert, outgoing interim dean of the Gilbert and Rose-Marie Chagouri School of Medicine and permanent consultant for LAU, has been named the 2012 recipient of the Alma Dea Morani, M.D. Renaissance Woman Award.
This highly prestigious award honors an outstanding woman physician or scientist in North America who has furthered the practice and understanding of medicine and has made significant contributions in a field beyond medicine—such as humanities, arts or social sciences.
"She has been a pioneer in recognizing the contributions of others; her pioneering, unique, caring, generous, passionate, and humane contributions to medicine, nursing, and public health, the world over, are now being recognized," says LAU President Dr. Joseph G. Jabbra spreading the news.
Eckhert, a pediatrician, is professor of family medicine and community health, professor in the graduate school of nursing and adjunct professor in public health at the University of Massachusetts medical school and a senior lecturer in pediatrics at Harvard Medical School. She currently works as the director of academic programs for Partners Harvard Medical International.
She was appointed interim dean of LAU's School of Medicine in October 2010.
"Dr. Eckhert's contributions to our School of Medicine and to LAU Medical Center–Rizk Hospital have been, and will continue to be, significant and major in the advancement of both," says Jabbra.
Indeed, Eckhert was instrumental in the creation of LAU's medical school, a reflection of her widespread experience in academic medicine and in global health.
"Dedicated to the mentoring of students, Eckhert is an innovator in areas of medical investigation," continues Jabbra.
Before taking on her Lebanese experience, Eckhert went to Africa, and Haiti, working with Project HOPE in primary care training in many sites around the world. She took a sabbatical year spent teaching at the University of Zimbabwe School of Medicine before landing at LAU Byblos where she first taught for two months. She has helped develop the governance and regulatory structure for the world's first free health care zone in the U.A.E.
The Alma Dea Morani award is presented in the memory of Dr. Alma Dea Morani (1907-2001) who was the first woman to be admitted to the American Society of Plastic and Reconstructive Surgeons. As the daughter of a famous sculptor, Morani combined her artistic talents with the emerging specialty of plastic surgery. Throughout her career she maintained her skill and interest as an artist and art collector.
"I feel very privileged to be given this recognition particularly considering the high caliber of women who received the award in the past," says Eckhert.
"I am truly honored," she enthuses.
Like Morani, Eckhert shares a profound appreciation for art and literature. Highly inspired by the life of pioneering women, Eckhert wrote "A Lady Alone" which is a one-woman play about the life of Dr. Elizabeth Blackwell, the first woman to receive a medical degree in the United States.
The Alma Dea Morani Renaissance Woman Award is presented by the Foundation for the History of Women in Medicine; this program is hosted by the Archives for Women in Medicine.