Forecasting a sustainable model for post-conflict Syria
New publication, coedited by the Director of LAU's ISJCR Imad Salamey, compares power-sharing models in the quest for conflict resolution in post-war Syria.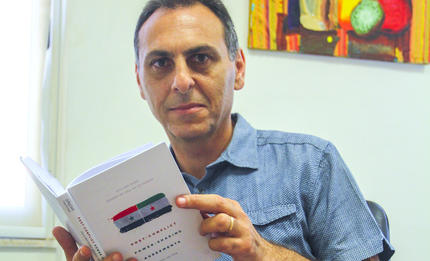 "This book brings in international experiences from different countries and perspectives to help forecast solutions and political agreement for Syria," says Imad Salamey, associate professor of political science at LAU and coeditor of Post-Conflict Power-Sharing Agreements: Options for Syria, published by Palgrave Macmillan this summer. "Any resolution to this conflict must be built on political agreement. Power-sharing is so critical for countries that have experienced conflicts similar to Syria's that it must rely on these experiences when considering resolutions."
The book combines examples from conflict resolution theory, post-conflict dialogue and local peace-building initiatives to offer "options, not conclusions" to those who will be negotiating an end to violence. "We present negotiators with options based on the experiences of different countries and outline the repercussions of each option," explains Salamey, who heads LAU's Institute for Social Justice and Conflict Resolution (ISJCR).
The post-conflict countries considered in the various chapters of the book include Lebanon, Iraq, Ireland, India, Bosnia-Herzegovina, South Africa, the Philippines and Mali, each of which can be compared and contrasted to Syria. Mali, for example, struggled with Islamist extremists, while Iraq's various sects and ethnicities have attempted different power-sharing arrangements.
The book's contributions were developed from panels at an international conference on conflict mitigation, dialogue and reconciliation in Syria, organized and hosted by LAU in November 2016.
All communities, says Salamey, will need to be included in a sustainable power-sharing solution in Syria. "In order to move toward a post-conflict era, power needs to accommodate the different sociopolitical compositions of Syrian society, be they ethnic, sectarian or socioeconomic."
Those at war in Syria, he adds, are becoming weary and more willing to negotiate, though peaceful solutions do not come easily after a bloody conflict. "The different sides need to see that potential solutions are possible and may indeed bring common benefits that outweigh the cost or potential gains of continued warfare."
While Salamey sees the national autocratic model as a failing or failed model, he believes power-sharing to be a necessary post-conflict alternative in a region with a diverse population. "Arab nationalists tried to sell a unified national identity, denying distinctive communities the right to choose and practice their own particularities. With globalization, however, communal affiliations became more assertive as groups became less restrained by geography." As such, only political systems that protect individual rights and communal diversity are likely to be sustainable. Salamey addressed this topic in more detail in his previous book The Decline of Nation States after the Arab Spring.
In addition to co-editing this latest book on Syria with Mohammed Abu-Nimer of the Peacebuilding and Development Institute at the American University in Washington D.C. and Elie Abouaoun of the United States Institute of Peace (USIP), Salamey co-authored its final chapter, "Ways Forward for Syria," with Samuel Rizk, country director for the United Nations Development Programme in Syria.
Just as this endeavor was made possible through collaboration with other organizations, so too will the publication of the upcoming Middle East Peace and Justice Series. "We'll be partnering to produce four books with different focuses in collaboration with USIP, the Carnegie Cooperation of New York, the Institute for Women's Studies in the Arab World and various LAU professors," says Salamey enthusiastically, noting that the new series will be published for mass consumption. "This series will target the wider public and will be endorsed by former U.S. President Jimmy Carter."