Green buildings and e-waste in Lebanon
June 9, 2010—
Three guest speakers — a civil engineer, a consultant, and an NGO worker — revealed to have at least one thing in common during two separate lectures at LAU Beirut last month: They each apparently have a soft spot for the environment.
The lectures were organized by LAU's Department of Natural Sciences within the context of environmental science courses.
Green buildings
The first lecture, entitled "Green Buildings in Lebanon: Luxury or Crucial Need," took place on May 20, during an environmental science course taught by Riwa Al-Atrash, an LAU faculty member in the Department of Natural Sciences.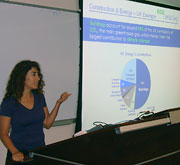 Maya Karkour, a consultant for U.K.-based sustainability consulting firm EcoConsulting, talks about green-building projects, during a lecture at LAU Beirut on May 20.
Invited speakers included Maya Karkour, a consultant for U.K.-based sustainability consulting firm EcoConsulting, and Khaled El Rassy, an engineer and the partial owner in charge of the development of a new eco-friendly building being constructed in Beirut.
The speakers detailed how, and why, they set out to encourage sustainable development projects, and talked about the rise and utility of green buildings.
"We spend nearly 90 percent of our time inside buildings — whether at university, at home, or in the office," said Karkour, who advises engineers and architects on how to design buildings in order to prevent waste.
Karkour noted a study conducted in the U.K. revealing that buildings account for about 52 percent of total energy consumed in that country.
She described how her company attempts to combine three pillars that are required for sustainable development — social concerns, economic development, and environmental protection — to convince real-estate investors and developers to make environmentally sound choices.
"The whole idea is to try to look at the long term and not just the short term," said Karkour, adding that in many cases, high upfront costs will pay off over time. "You'll be improving the health of the occupants, and you'll save money on energy, water, and [other resources]."
The environmental impact of buildings was hardly an issue of concern for engineers, architects and developers to consider until recently when going green has become a global trend.
Karkour explained that everything now that goes into the design and construction of buildings — such as lighting, ventilation, insulation and even the paint used to cover walls which, over time, evaporates and releases dangerous toxins into the air — are becoming scrutinized by specialists who are quick to point out the shortcomings in many of Beirut's older structures.
The situation in Lebanon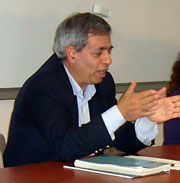 Khaled El Rassy, an engineer and the partial owner in charge of the development of a new eco-friendly building being constructed in Beirut, explains why he decided to undertake the project.
El Rassy, who recently moved back to Lebanon after spending most of his professional life in the Gulf and Europe, described being "shocked" after witnessing the amount of waste in the country. So he decided to introduce something different.
"I was stunned by the low standards of construction in Lebanon in terms of certain aspects such as how wild the waste of energy is," he said. "This is something unacceptable."
"This time I'm acting as a moral developer. … I decided that I want to go green, and this was of course a challenge," El Rassy said, pointing out that his friends cautioned him against undertaking the project in Lebanon where the market for green buildings is uncertain, and which could prove to be a financial disaster for him if the skeptics are right.
He said his main goal for the project was to find ways to save energy, primarily through the use of energy-efficient technologies (such as the new VRV air conditioning system), and renewable energy sources, like solar, which are widely used to heat water in other countries.
In her lecture, Karkour pointed out that only one percent of houses in Lebanon use solar water heaters, compared to 50 percent in Cyprus, which El Rassy described as a "crime."
One of the biggest mistakes developers make, El Rassy said, is with the placement and orientation of the buildings.
"80 percent of the buildings in Beirut are wrongly oriented," El Rassy said, explaining how they prevent drafts from flowing through, and attract unwanted sunlight and heat, that prompt residents to turn on their air conditioners.
El Rassy said he hopes his project will encourage others to demand the same. "In Lebanon, we work by fashion, and if [sustainability] becomes a fashion, people will start asking for it," he added.
E-waste: A growing problem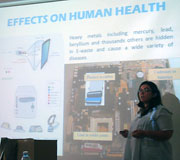 Nadine Haddad, director of the NGO Beeatoona, warns about the dangers of e-waste, during a presentation on May 24.
Four days later, on May 24, Nadine Haddad, director of Beeatoona, an NGO founded in 2008 in Lebanon concerned with environmental protection, shed some light on a rarely discussed issue in the country: the environmental and human health dangers associated with electronic wastes.
She was the guest lecturer in an environmental science course taught by Mohammad Al-Zein, a faculty member in LAU's Department of Natural Sciences.
As consumers race to purchase the newest electronic gadgets — like batteries, cell phones and computers — their old machines are often simply tossed in the bin and then they pile up in landfills.
"E-waste has become a major crisis," Haddad said. "The amount of e-waste that is being generated every day is growing."
Many electronics contain toxic substances (such as lead, mercury and cadmium), which can cause diseases upon human contact. Many plastics also contain flame retardants, which leach into soil where they are buried.
When electronics and plastics wastes are simply thrown into a pile and set aflame — a familiar practice in Lebanon — carcinogens and neurotoxins are released into the air.
Unlike more developed nations, Lebanon has no way to recycle the electronics, said Haddad. Currently, her NGO is collecting and storing e-waste in a warehouse until enough of it has been gathered to ship it to Europe for recycling.
Consumers in Lebanon and Jordan can visit the organization's e-cycle project website for locations of e-waste collection points, and a list of accepted items.
Haddad admitted that shipping and recycling the waste will be very costly, and said the group hopes to find a more sustainable solution in the future to deal with the problem.