Harvard Medical International reps share views on LAU's Medical School
Visiting HMI delegates discuss their partnership with LAU, SOM progress, and prospects during Q&A.
Representatives of
Harvard Medical International
visited faculty and administrators of
LAU'
s
Gilbert and Rose-Mary Chagoury School of Medicine
for an annual Joint Advisory Board meeting May 5 and a faculty development workshop at Le Meridien Commodore Hotel May 6–7.
As part of a ten-year collaboration,
HMI
has been providing the school with consulting on issues such as curriculum development, faculty standards, and admission processes.
The
HMI
representatives "were extremely positive in the evaluation of our progress and I think they were very impressed," said Dr. Kamal Badr, dean of the School of Medicine.
"They will be coming and spending extended periods of time here after the school opens and we look forward to working with
HMI
in developing our clinical programs," he added.
HMI
delegates Dr. Lynn Eckhert, director of Academic Programs; Dr. Thomas Aretz, vice president of Global Programs; and Dr. Constance Bowe, senior consultant, shared their views on the School of Medicine in a recent interview.

Drs. Lynn Eckhert and Kamal Badr give opening speeches at the evaluation and assessment workshop.

What attracted HMI to LAU?
Eckhert: I think LAU is a special institution that really knows what it wants to accomplish. It has decided it wants high quality and excellence in education so it's been very rewarding and quite easy to work with LAU because we share a value system.

Aretz: I think LAU has a track record and is really an established institution. It put several new programs and facilities in place. We thought everything was absolutely right.

Bowe: The School of Medicine seems very organized too. It has moved these projects along in a really orderly way. Since we do this in other places, we can appreciate that efficiency.

Eckhert: I had the advantage of interviewing some of the students. There was an enthusiasm among them that was pretty shocking for a brand new school. We are looking not only for a class that is bright, capable and excited but also a group that would work well together.


Dr. Eckhert welcomes SOM representatives to the faculty development workshop.
Can you describe HMI's relationship with LAU's School of Medicine
Aretz: I think it is more sort of a partnership, a relationship based on co-development and advising. We are not coming to establish our own institution. We are not managing anything. We really feel that we are here along the way to see this happen. We don't view ourselves as straight consultants either.

Eckhert: I think we feel a part of this initiative. It's happening in Lebanon and LAU but we are talking to the faculty all the time, visiting them, and being involved at whatever level the school likes.

Bowe: With our collective experience we can see some of the pitfalls and problems that are going to arise beforehand. We won't solve the problems but will alert and help the School of Medicine think through how it can prevent those things from occurring or at least be ready for them when they do happen. The start-up phase is the easy phase compared to the maintenance. It is the setting of a system in place that's going to keep the quality of education with enthusiasm, which is equally as important.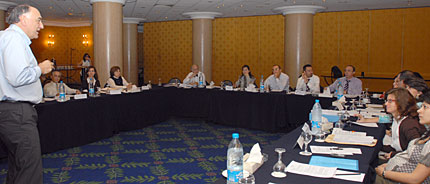 Dr. Thomas Aretz talks about the integration of design modules into the SOM curriculum.
Have you seen the School of Medicine make progress in the past year?
Aretz: Oh, absolutely. The progress is going almost exponentially at this point.

Bowe: It's been amazing. I think Dr. Badr is a phenomenal administrator and he has a vision that is very clear. There is a physical progress in building, but there is also a sort of enthusiasm that is energizing everybody to give a lot of time and thought to create a curriculum that's exciting and innovative. It should be something very different from existing Lebanese medical education.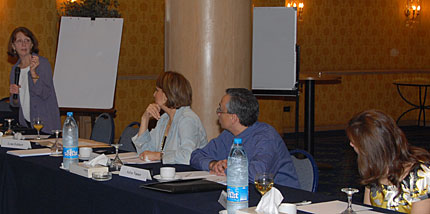 Dr. Constance Bowe offers various approaches to learning evaluation.

Where do you see SOM in the future?
Eckhert: I think SOM will be one of the leaders in the Middle East. It is not only going to make a difference for its own students but also for medical education across the region. It is going to be innovative, thoughtful, patient-centered, student-focused.

Aretz: Given that LAU is going to introduce a nursing program and it has already an established pharmacy program, I think SOM will probably be one of the few schools in the world that may actually start educating students from various disciplines together, building health care teams from day one. I see this as a real possibility of creating some new regional and global models of medical curriculum.

Eckhert: SOM started right away by recruiting really good researchers. They will be a real leader in that arena, adding to the body of knowledge of medicine through research.


What advice can you offer to the first class, which will begin M.D. coursework in September 2009?
Bowe: I think I'd ask them to appreciate that learning is a process not an event. Sometimes it's only in retrospect that you can appreciate the progress you made.
Compared to students of other medical schools, they will have a different experience that we all believe will, in the long run, make them better doctors.

Aretz: Enjoy that you are the first class. Take ownership of your school. Work with the faculty to make it the best program you can possibly make. Take advantage of the fact that you are a small, very closely knit group. Your class is going to be a pioneer group who can really, quite frankly, create something absolutely brand new. So you should take advantage of that rather than expecting to be taught. Enjoy that you are learning.


---
Read a previous story on the partnership between

LAU

and

HMI
.