Introducing DELI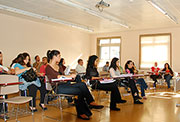 The objective is to upgrade the English language labs to meet current international standards across the university.
Click on photo above for larger version.
September 14, 2012—
LAU's School of Arts and Sciences launches a preparatory English language-teaching unit under the umbrella of the newly created Department of English Language Instruction (DELI).
The creation of this new academic unit was the result of recommendations ensuing from a detailed yearlong study carried out by two task forces and final approval from LAU President Dr. Joseph G. Jabbra and Provost Dr. Abdallah Sfeir.
"The drive to establish DELI was fueled by the mandate of the University's Strategic Plan whereby an emphasis on education is a top priority," says Dean of the School of Arts and Sciences, Dr. Philippe M. Frossard.
The rationale behind bringing together all pre-college English courses under the umbrella of one department is twofold: to facilitate the coordination among all courses offered at LAU and to help streamline the content and to establish a clear parallel between English for academic and English for non-academic purposes.
"Ultimately this overhauling of the system will place the department in a well situated position for seeking accreditation," continues Frossard. In other words, the objective is to upgrade the English language labs to meet current international standards across the university.
"This is an important step since it allows us greater opportunity for future expansion; particularly in light of the fact that LAU is growing each year," says Dr. Rula Diab, the founding chair of the department.
"Essentially what has occurred is a strategic restructuring—allowing the department greater freedom to pursue ambitious objectives," continues Diab.
Such objectives include an implementation of a comprehensive curriculum review across both campuses. "Our goal is to continuously review, improve, and update placement guidelines and course content and most importantly to ensure uniformity across campuses—to streamline everything."
A future goal of DELI will be the implementation of a "writing across the curriculum" initiative, which essentially is a process of improving English writing skills across all majors. "We aim to promote a culture of writing and enhance writing skills across the LAU community," says Diab. "After all, writing and communication skills are vital to success for students in all departments."
"This restructuring will give our department a strong voice and ability to create a more updated curriculum," says Therese Nasrallah, DELI's program coordinator at LAU Byblos.
Currently, three skill levels of English language courses will be offered: freshman, remedial and intensive. The courses that are currently offered under DELI are Eng. 002, Eng. 003, Eng. 009, Eng. 101, Eng. 102. These courses were previously available to students in the Department of Humanities.