LAU hosts NEASC accreditation team for a comprehensive evaluation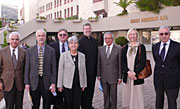 The team representing the Commission on Institutions of Higher Education of the New England Association of Schools and Colleges with LAU President Joseph G. Jabbra (3rd from right) and Provost Abdallah Sfeir (1st from right) on the Byblos campus.
November 30, 2009—
A six-member team representing the Commission on Institutions of Higher Education (CIHE) of the New England Association of Schools and Colleges (NEASC), one of eight accrediting commissions in the United States that provide institutional accreditation on a regional basis, visited LAU from November 8–11 for a review of the progress and changes undertaken by the university to meet accreditation standards.
The team met with faculty, staff, students, and members of the administration and the Board of Trustees, spending time in both Beirut and Byblos. The team's meetings were organized around the NEASC Eleven Standards and the seven emphasis areas that CIHE had asked LAU to concentrate on back in 2007.
LAU has been pursuing accreditation since 2005 and officially attained a candidacy status by NEASC–CIHE in 2007 when the first team representing the Commission visited the university.
After the 2007 visit, NEASC–CIHE drafted a report with a number of emphasis areas that LAU should pay special attention on, namely, implementing the medical and nursing schools, facilities plans, integrated planning, governance of the university, ensuring sufficient numbers of full-time faculty, assessment efforts, and "one" university.
Once candidacy status is attained, a university is given five years to make the changes it sees fit before NEASC–CIHE sends a team to review progress made and make appropriate recommendation to the Commission. This visit comes just two years after LAU became candidate for accreditation.
"Under the leadership of President Jabbra, the university has engaged in a major effort to apply for full accreditation in two years," said Dr. Elie Badr, Assistant Provost for Academic Programs and co-chair of the steering committee at LAU helping the Provost oversee the accreditation process.
NEASC–CIHE, which is recognized by the U.S. Department of Education, accredits approximately 200 colleges and universities in the six-state New England region.
Besides this form of institutional accreditation, there are also field-specific accreditation bodies that accredit particular schools and programs, as is the case with LAU's School of Pharmacy, the only school outside the United States accredited by the Accreditation Council for Pharmaceutical Education.
Badr explained that in order for other LAU schools and programs to earn professional accreditation, such as the business and engineering schools, and the computer science program, the university first needs to earn institutional accreditation.
On the final day of the accreditation visit, the visiting team members held a closing session in Byblos for the whole university community.
LAU is expecting the team's written report within a short amount of time and the decision of the NEASC Board of Trustees in early spring.