LAU journalism professor represents Lebanon at media conference in Iraq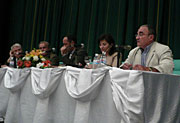 Dr. Ramez Maluf (1st from right), LAU associate professor of communication, speaks at the Iraqi Journalism Summit 2009.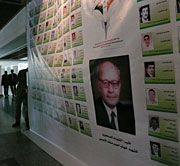 Pictures of Iraqi journalists and media staff — including the head of the Iraqi Journalists' Syndicate Shihab Tamimi (center) who was assassinated last year — depicted on a stand during the conference.
June 24, 2009—
One of the challenges facing nascent democracies is the nurturing of free speech, and, in turn, the challenge facing the press is to use that freedom responsibly, said Dr. Ramez Maluf, LAU associate professor of communication, at the Iraqi Journalism Summit 2009, held in Baghdad May 22-23.

Organized by the International Federation of Journalists and the Iraqi Journalists' Syndicate, this was the first international non-governmental conference of any kind held in the Iraqi capital since 2003, when the devastating war began.

The event tackled such issues as the safety of journalists and freedom of press — a positive step for the country as it struggles to rebuild its democracy amid the ongoing war.

In his remarks on "Iraqi Media as Seen from Abroad," Maluf compared the news media systems of Lebanon and Iraq, where "political and sectarian tensions too often color the news at the expense of the truth."

The governments and the peoples of the two countries "must be educated to understand that there is never an inappropriate time to tell the truth, never an inopportune occasion to expose corruption, never a wrong moment to defend freedom of thought," Maluf said.

Journalists, in their turn, "must be alert to the imprudent use of the freedoms afforded them by democratic institutions," he added.

Maluf was the sole representative of Lebanon in the conference. "I believe the invitation to attend and address the conference was a recognition by the organizers of the important role our university and its journalism program play in the region," he says.

Representatives of press syndicates from North and South America, Europe, Asia and Africa attended the event, along with 200 Iraqi journalists.

The meeting was meant to be "a show of support for the press in Iraq, where close to 300 journalists and media staff have been killed since 2003," said Aidan White, IFJ general secretary.