LAU students shine at summer institute on politics and economics in Greece
Six LAU students have returned from a Greek island where they participated in an intensive academic program with over 80 students from 20 countries.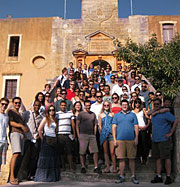 The IIPES participants stop for a group photo during a sightseeing trip in Crete.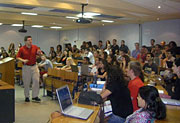 IIPES Assistant Professor Kurt Rutthoff captures the attention of students during an economics lecture.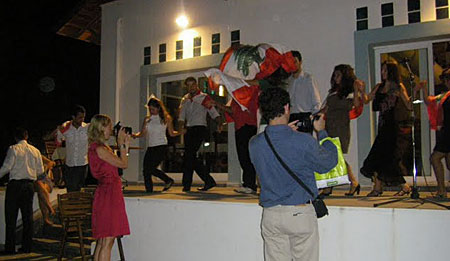 LAU students present a traditional Lebanese dabke dance during the IIPES participants' Country Presentation Dinner.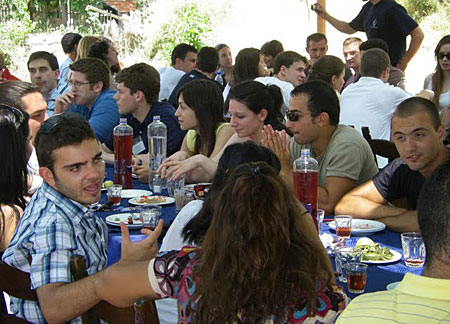 IIPES participant and LAU student Mazen Abi Saad engages in dialogue with other participants over lunch in Crete, Greece.
Click on any photo above to view all four images
Six LAU undergraduate students have returned from the Greek island of Crete, after attending the International Institute for Political and Economic Studies, an intensive summer academic program from July 25-August 10, which attracted 89 students from 20 different countries.
Students participating in the program organized by The Fund for American Studies, explored issues relating to politics, economics, intellectual history, conflict management and culture. They also had the opportunity to enhance their listening and debate skills.
"I am very impressed with the students from LAU," says institute director Matthew Kwasiborski. "I can say with sincerity that the Lebanese delegation has been the most impressive and active, both academically and socially." He says what differentiated the members of the LAU delegation was their "accepting and patient nature to both listen and debate their points of view with the other students and faculty."
Kwasiborski says the program, which was funded by TFAS and the Greek Association for Atlantic and European Cooperation, brought together students from a range of areas, including the Middle East and the Balkans, to a "welcoming environment where they feel free to discuss with other students, staff and faculty about living conditions in their part of the world, in hopes of beginning a constructive dialogue with each other."
"The most interesting course was the history course given by Professor Antony Sullivan [that] widened my knowledge about the clashes of civilizations, their rise [and] fall," says program participant Michael Abi Semaan, an LAU international affairs student.
Abi Semaan says the conflict resolution class was beneficial as it taught him the origins of conflict, nationalism, as well as state responses and different institutional solutions to conflict.
On the other hand, fellow international affairs student on the program, Mazen Abi Saad preferred the economics course, which examined economic theories and strategies taken during real-world political situations. "The economics class was really amazing," he says. "Professor Kurt Rotthoff was gifted and had a unique way to deliver smoothly very difficult and complicated information … related to [issues prominent] nowadays [in the] world and the current financial crisis."
The IIPES institute is sponsored by Georgetown University in Washington, D.C., that, upon the successful completion of a comprehensive written exam based on the material covered in the classroom, provides both undergraduate and graduate student participants with three credits.
To offer students something different from the formal setting of lectures, readings and discussions, IIPES organized social activities aimed at fostering international dialogue and cultural exchange. One of the events was the Country Presentations Dinner during which students danced to the rhythms of their national songs wearing traditional costumes.
They also had the opportunity to discover the island's beauty during tours in Chania, one of Crete's largest cities. "The Cretan civilization is really close to the Lebanese one," says Abi Saad, adding the island "easily felt like home" to LAU students.
Abi Semaan advises other LAU students to take part in this program too. "It is an unforgettable experience," he says. "Don't think twice. Just go for it, [and] you will never regret it."