LAU students win big in taekwondo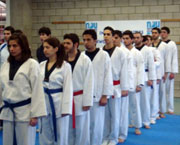 The LAU taekwondo team attained second place overall at the 2010 Inter-Universities Taekwondo Championship of the Lebanese Federation of University Sports.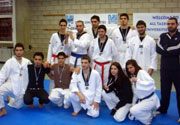 LAU students with coach Mark Rjeily (1st from right) after the distribution of the medals.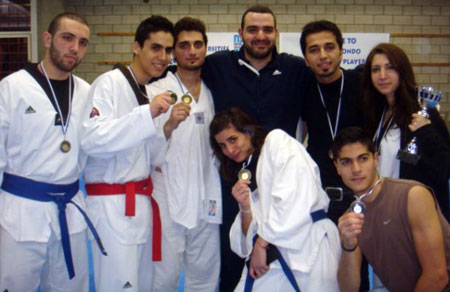 From left (standing): Yazan Abdel Al, Melhem Akouri, Ayman Safa, Coach Mark Rjeily, Ahmad Khatib and Victoria Kesserwani. From left (sitting): Sana Chahine and Rateb El Hage.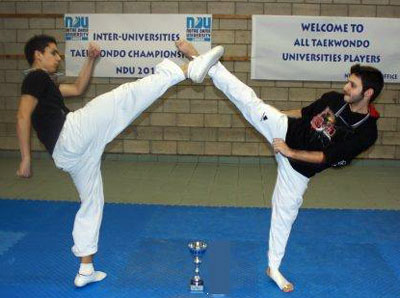 Red belt category gold medalists from LAU Melhem Akouri and Naji Ghaziri.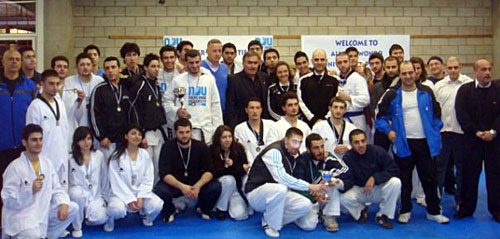 The participants, judges and organizers of the FSUL 2010 Inter-Universities Taekwondo Championship.
Click on any photo above to view all five images.
February 8, 2010—
LAU students from the Beirut campus won eight gold, one silver, and two bronze medals at the 2010 Inter-Universities Taekwondo Championship of the Lebanese Federation of University Sports, held at the Notre Dame University in Louaize on January 23.
Forty-five competitors from nine universities in Lebanon competed in different belt and weight categories. LAU attained second place overall at the championship with a score of 66 points — losing to NDU by just five points.
In the men's division, Naji Ghaziri (below 63 kg) and Melhem Akouri (below 74 kg) won gold for the red belt category. Mohamad Safieddine (below 68 kg), Ayman Safa (below 80 kg), Yazan Abdel Al (below 87 kg), and Said Rahhal (over 87 kg) won gold, Rateb El Hage (below 63 kg) won silver, and Ahmad Khatib (below 74 kg) and Ziad Haidar (below 80 kg) received bronze medals for the blue belt category. In the women's blue belt category, Victoria Kesserwani (below 51 kg) and Sana Chahine (below 47 kg) took home the gold medals.

All the students take part in one of two elective physical education courses held twice a week or the taekwondo extracurricular activity held three times a week at LAU Beirut.
Sami Garabedian, director of Athletics at LAU Beirut, says there has been a significant improvement in the performance of taekwondo students over the past few years. "This is the first time we have this many people compete in the championship and they did very well," he adds.
He attributes a part of the success to coach Mark Rjeily, who has been practicing the ancient Korean martial art form for the past 12 years and joined LAU as a taekwondo coach in 2008.
Rjeily has changed the classes to encompass more practical activity, while retaining the theoretical aspect that is important to the sport. Taekwondo has been offered at LAU since 2005.
"Rjeily has done an excellent job getting the students interested because he's approaching [taekwondo] differently, as an educator and as an expert," says Garabedian.
"His new approach is attracting more students to the classes," Garabedian adds.
Students Ghaziri and Kesserwani both won in their respective categories in the 2009 National Taekwondo Championship. Most of the winners of the latest inter-university championship will go on to compete in this year's national championship, to be held in April and May.