LAU survival team set their sights on Mount Elbrus
Two years after climbing Kilimanjaro, a team of students and staff are preparing to scale the highest mountain in Europe in support of children with cancer at LAU Medical Center – Rizk Hospital.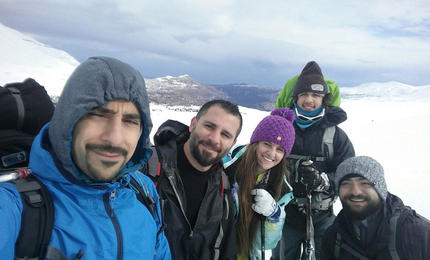 In 2015, the LAU Survival Team came back from Mount Kilimanjaro proud and content after climbing one of the seven highest summits of the world in support of the LAU Department of Mechanical Engineering's exoskeleton research. This year, starting July 24, they will be climbing Mount Elbrus in Russia, the highest peak in Europe, to support children with cancer being treated at LAU Medical Center – Rizk Hospital.
"Everybody has a mountain to climb. We have this mountain, these children have their own mountain, and we're fighting together hand in hand," said Campus Activities Associate Manager Alan Kairouz, the Survival Team leader. After meeting the cancer patients in person and realizing the pain and struggle they went through, the team promised that they will be "going to the top with the children," calling them every night and taking their picture with them to the summit.
LAU Vice President for Student Development and Enrollment Management Elise Salem, who took part in the Kilimanjaro adventure, remembers the experience as being "the hardest and most beautiful and memorable experience of (her) life." Salem recalled the natural bond that was formed between the team members and the way they discovered a new culture together. "On the first night, I went to bed convinced that I'll be leaving the team the next day, but when I woke up, I never looked back." Although she will not be joining this year's expedition, which was a very difficult decision to make, Salem will be supporting the team from Lebanon by hiking the Lebanon Mountain Trail.
In preparation for their expedition, the LAU climbers have been working closely with Team Lebanon, a group of Lebanese mountaineers from diverse professional backgrounds. "We want to support a humanitarian cause while inspiring people to pursue their dreams," said Team Lebanon member Georges Mikhael, who is also a Pharmacy Instructor at LAU.
One of the LAU climbers, business student Joey Daouk is a true example of sheer tenacity and determination. An active athlete for years, Daouk was told to quit sports when he was diagnosed with three spinal discs. With partial paralysis in his left leg, he was highly demotivated but eventually overcame the difficulties he was facing with the help of Kairouz and his team. He is preparing for this challenge, which has a special meaning for him as a member of his family is a cancer fighter as well. "Never Give Up. Keep fighting no matter what it costs you. Nothing can stop you," he said.