LAU welcomes back internationally acclaimed alumni
The Fine Arts Alumni Biennial showcases the creative talent of 16 LAU graduates.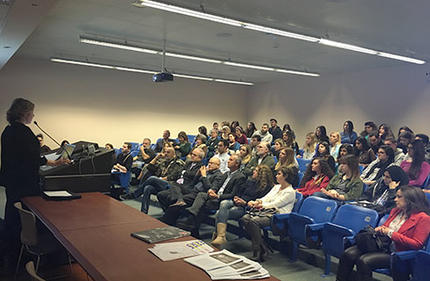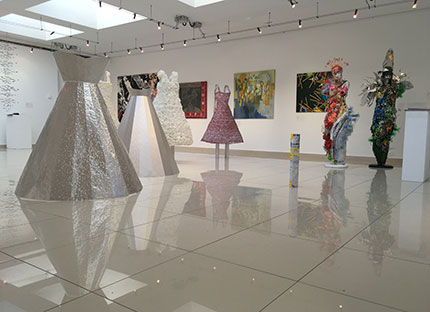 The selected collection of artwork displayed at LAU's Fine Arts Alumni Biennial tells the story of 16 graduates, all of whom nourished their talents at LAU and flourished on the international scene.
Marya Kazoun's artistic path since she graduated from LAU in 2000 is one of the most striking success stories. Recognized worldwide, Kazoun has been featured several times at the Venice Biennale and is locally represented by the Galerie Janine Rubeiz in Beirut. Although she works between New York and Venice, she returned to Lebanon to give an inspiring Artist Talk, which opened LAU's Biennial exhibition on March 22.
Kazoun's work – which she unveiled to an audience of students, alumni and faculty members – features an alternative vision of the world, created by sewing together all kinds of material and giving it life, at times through the use of live performances embedded in the art work.
Some of her installations reflect her own subconscious fears, while others represent deteriorating social conditions. According to Kazoun, her years at LAU gave her the tools to explore her feelings and translate them into art. "I learned how to express myself and take out what I have inside me," says Kazoun. "You could say I was freed."
Creating an occasion for alumni to interact and showcase their work is part of LAU's pledge to support its students beyond their graduation day. "We have a full-fledged office designed to promote our students," says Abdallah el Khal, head of the Alumni Relations Office, "we take great pride in them and they deserve it."
More than art, the exhibition displayed strong human ties that transcend time and distance. Notably, it was Marya Kazoun's ongoing relationship with her former professor and source of inspiration Arwa Seifeddine that brought her back to LAU to address current students. At the end of her speech, Kazoun expressed her admiration for LAU's faculty. "You are lucky," she said to the students, "you have great teachers."
Dalia Bassir, another participating artist, regularly updates her former graphic design professor, Silia Abi Arbid, on her latest accomplishments. "At LAU, I learned to go back to my essence," says Bassir, who works both as an artist and a graphic designer. "My professors kept highlighting my skills in drawing, so I decided to go back to it and now it is something I constantly keep in mind when I approach a new project."
The work she exhibited – meaningfully entitled "The Painter" – is proof of that. By drawing in black on a Led Plexi Lightbox, Bassir uses light and shadows to revisit a painful moment in her life – the burning down of her house in Saida and the process involved in its restoration.
"It makes us proud to see that our students make it at an international level," says Abi Arbid, chair of the Department of Fine Arts and Foundation Studies and one of the organizers of the event. "This shows that, despite the challenges we face in this country, we can succeed in our aspirations."
Photos by instructor Bassam Lahoud.