Learning to lead
LAU bids farewell to its second outgoing class of MEPI TL scholarship program.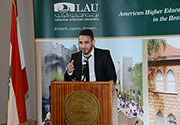 For graduating student Hummam Wasfi the experience has been life changing.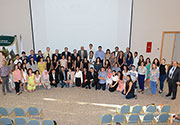 LAU-MEPI TL students are trained to be future leaders in their community.

Graduating student Dana Al Shamlan from Bahrain talks about her years spent as an LAU-MEPI TL scholar.
Click on any photo to view all three pictures.
A sense of accomplishment permeated the Byblos campus at the Alumni Welcome Ceremony last week. Nearly 50 undergraduates enrolled in LAU's Middle East Partnerships Initiative's-Tomorrow's Leaders (LAU-MEPI TL) celebrated nine of their colleagues who were officially welcomed by the Alumni Relations Office as alumni-to-be.
Jointly funded by the U.S. Department of State and the university, LAU-MEPI TL provides full scholarships for promising students from across the Arab world to study at LAU.
Representing a diverse mix of backgrounds, skills, interests and ambitions, the students are selected for their academic credentials and commitments to leadership work in their communities. LAU's first MEPI class, comprised of six students, enrolled in 2008.
"I was a troubled person with so much anger and sadness from my life in Iraq," said Hummam Wasfi, 22, as he addressed the hall before receiving his diploma. With a childhood marked by Baghdad's violent recent history, Wasfi knew little of peace, security or community prosperity as an adolescent. But he knew those ideals were worth working for.
Securing a place on the LAU-MEPI TL program not only afforded him an excellent education but, in his words, "gave me the chance to be among people who challenged me, inspired me and ultimately changed my life."
The LAU-MEPI TL program complements the university's ethos of harnessing not just the academic excellence of students but also a strong commitment to serving others. Its curriculum is designed to promote civic-mindedness, critical thinking and the professional experience required to contribute to positive change in their societies.
Throughout the program, students undertake community service, summer internships, roundtable discussions, and leadership training. They also spend a semester studying in the U.S.
At the ceremony, Associate Director of Alumni Relations Ghada Majed presented the alumni program and chapters, reminding the alumni-to-be of how they can help their alma mater but also how LAU can help them.
"You will soon leave this institution, but I plead with you to go out with the values that you learned here, and to change the world for the better," said LAU President Dr. Joseph G. Jabbra in his address to the students. He also thanked the U.S. Government and people for funding a program designed to contribute to a more prosperous and peaceful region.
The importance of playing a positive role in society was also reinforced by keynote speaker Robert McGregor, chairman of PRO International business consultancy agency, and former chairman of INDEVCO Foundation. "Be people of virtue, vision and service," he advised the graduating class.
"I've been hugely inspired by what I've seen today and I hope these young people realize they are part of a community of thousands across the region who have shared in MEPI programs," said Richard Mills, deputy chief of mission at the U.S. Embassy in Lebanon. "I know that LAU has provided an enriching educational environment and given these students the tools to make a difference in their communities."
The skills and values instilled by the LAU-MEPI TL program means its cohorts are well prepared for life after university, said Dr. Walid Touma, director of LAU's Enterprise Office, which oversees the program. "There are revolutionary ideas among these students and I am so proud of every single one of them."
Jabbra and President of the Alumni Association Leila Dagher presented the students with alumni medals as a souvenir.