Love poems to Beirut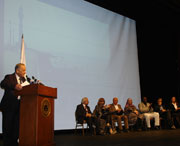 Haifa-born Jordanian poet Haider Mahmoud begins the poetry festival held at LAU with his own ode to Beirut.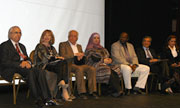 Some of the Arab world's most renowned poets took turns sharing their praise of the Lebanese capital.
February 4, 2010—
Arab poets from Morocco to the Gulf attracted a full house at LAU's Irwin Hall Auditorium to share their love poems dedicated to the city of Beirut, on January 29.
The Arabic poetry festival was organized by LAU's Center for Lebanese Heritage under the patronage of Lebanese President Michel Sleiman.
Henri Zoghaib, a poet and director of the center, moderated the event, speaking with energy and animation, as he emphasized the importance of Arabic poetry in Beirut and introduced the various poets.
In front of a backdrop of a Beirut cityscape slideshow, the various poets paid tribute to last year's World Book Capital, as home to renowned writer Khalil Gibran, the legendary Lebanese musical team of the Rahbani brothers and of course, to Lebanon's "ambassador to the stars" Fayrouz.
A city for all Arabs
The evening was filled with words of love for Beirut, in celebration of the cultural capital that is now witnessing stability and prosperity.
The program began with Haifa-born Jordanian poet Haider Mahmoud, who described Beirut as being a city of "light and energy," a "dream" and a "bridge."
Wafa'a Al-Omrani, from Morocco, caught the audience's attention with her soft-spoken words and praise for the Mediterranean Arab capital.
Egyptian poet Farouk Shousha captivated the audience with his ode to Beirut, his arms waving with every phrase, recalling the historic relationship between Egypt and the Phoenicians.
Sudanese poet Sadik Al-Mujtama stressed the importance of seeing Beirut through the eyes of others, and the connection that all Arabs have to the city.
Jena Qoraini from Kuwait described the natural beauty of Lebanon, also emphasizing the importance of Beirut as an Arab capital.
Syrian poet Shawki Baghdadi immediately said, upon approaching the podium, "I'm from Damascus. I can't help but love Beirut." This was met with applause and cheers. He went on to describe Beirut as the capital that saves him.
From Washington, D.C., May Al-Rihani, in the tradition of some of the Lebanese emigrant poets who preceded her, read her poem in English. She described the Lebanese exiles flocking back after years of war. She "prayed that the magical city would forgive us." This was followed by Zoghaib reading a translation in Arabic.
Two poets on the program, from Iraq and Palestine, could not attend. But they still sent their love poems to Beirut from their home countries.
After the poets had finished paying tribute to Beirut, the ambassadors of their respective countries then honored their own native poets by awarding them each with a plaque and a book.
Although many of these poets have been outspoken critics of their own governments, this was clearly an evening when culture trumped politics, and traditional barriers were broken for the sake of honoring the city of Beirut through Arabic poetry.
After the festival, Sudanese ambassador Idries Suleiman said that it was fitting that Beirut was chosen because of its "importance as a cultural center."
Abdul Razak Abdal Wahad, who was prevented from leaving Iraq for medical reasons, sent an email to Zoghaib with the first several verses of his poem, promising to finish the poem upon his recovery.
The evening's poetry part ended with "hearing the voice of Palestine," as Zoghaib put it. Palestinian poet Samih Qasim passionately sent his love to Beirut through a recorded video message from his home country.