MENA Women Inspire Struggle Against Violence
Institute for Women's Studies in the Arab World invites women with different accents, ideologies and experiences to discuss the fight against gender-based violence.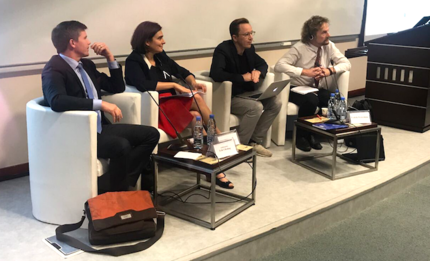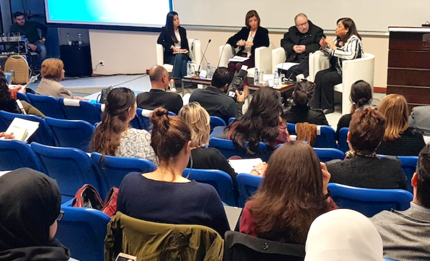 A regional conference about legislation related to violence against women in the MENA region concluded on Wednesday afternoon with yet another lively panel discussion and open debate. The two-day event was hosted by the Institute for Women's Studies in the Arab World (IWSAW) in partnership with Sida, Diakonia, Norwegian People's Aid and IM Swedish Development Partner.
"All the discussions were interesting and engaging, and well attended by a knowledgeable audience," enthused Regional Director for IM Jenny Oskarsson. The impetus for the conference was the changes in so-called "rape laws" that were passed in Lebanon, Jordan and Tunisia in recent months. "We wanted to celebrate the success, exchange information and find inspiration to ensure a forward-moving momentum."
The situation in the region, explained IWSAW Director Lina Abirafeh, is so dire that such exchanges are not only useful but also essential. "Violence against women is the biggest obstacle to equality, the most egregious human rights violation, and for me it is simply unacceptable that this continues," she declared unequivocally at the outset of the conference that welcomed hundreds of women, and some men, from across the Arab world.
"Ending violence against women is not, however, a 16-day activity… but something we have to be in for the long haul," added Abirafeh, referring to the annual global campaign entitled 16 Days of Activism Against Gender-Based Violence during which the conference was held.
More than a dozen representatives from organizations actively engaged in the feminist movement in the region were invited to share their personal and professional experiences of violence against women and the difficulties they face challenging the status quo.
The interventions, presented over four thematic sessions, provoked strong reactions among audience members, both asserting and challenging many of the views expressed. The role of men in the fight against gender-based violence was among the hot topics debated, as was the definition of feminism and the perceived gap between feminists of different generations.
"What unites us all is the desire to give women freedom," declared ardent feminist Farah Kobaissy. "Different groups focus on different aspects and goals, and don't necessarily agree ideologically, but that's okay," added the NGO worker.
Ultimately, the majority appeared to agree that there was no need to homogenize the term feminism and that arguing over differences was not time well spent. "Let us not think for one second that we are progressing, that we are doing well," warned Abirafeh as she reeled off a list of statistics about gender discrimination in Lebanon and the region. "Let's not be smug, because this is no time to be lazy. We call upon everyone to raise their voices and amplify their actions to prevent violence against women."