Mosaic: not just another art piece
Adel Karam and over 600 people attend the launching the innovative new LAU student newsletter.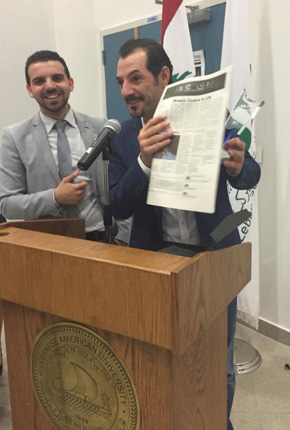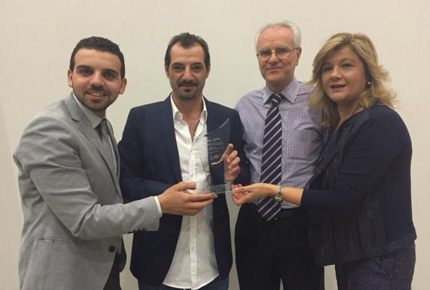 Mosaic is a well-known form of art, composed of different-colored stones. This week, the Civic Welfare Club launched its own "Mosaic," a newsletter composed of LAU's different-colored minds. The launching ceremony hosted the Lebanese comedian Adel Karam, himself known to have taught the Lebanese to embrace their differences with laughter.
With over 600 people attending the ceremony under the same roof, "Mosaic's" creators were able to reach its main goal, uniting differences. The newsletter, published in both Arabic and English for free every 14 days, allows LAU students to give voice to anything and everything on their mind, whether academia related or just another relationship rant. It allows expression in all its forms. "We embrace our differences under one institution, one paper," says Dr. Nidal Daccache, one of the founders of "Mosaic."
As quoted in its opening article, "Mosaic will reflect the qualities that define LAU's diversity, student engagement, and diversity in this one-of-a kind publication." The creative team itself is composed of students from several backgrounds, including Design, Communication Arts, Medicine, Engineering and other majors. The Arabic sections editor-in-chief medical student, Hadi Mourad has been quoted as saying in an interview, "I am so proud of my team, they have proven to me that our mission of unification isn't close to being impossible. LAU gave birth to a great opportunity for its students."
With the LAU Student Council elections coming up, the newsletter's ceremony allowed ideologically diverse students to find a common bond, "Mosaic." On this topic, Adel Karam addressed students attending the launch with a request: "In the light of the elections, I would like to ask each and every one of you to let go of his political background and grasp this institution as their only entity. Compete for its benefits, not yours."
"Take Mosaic as a role model, for it mirrors true unity. It is a reflection of LAU and every university in the region should arrange a similar newsletter allowing maximum freedom of expression," continued Adel. Hani Mourad also underlined the newsletter's wide embrace of differences. "Mosaic's name is associated with both arts and physics. It is a publication adored by fans of both Abbasid poets and Marilyn Monroe. It is a family that accepts all the differences of its members," he said.