Pharmacy students get trained on first-aid techniques and CPR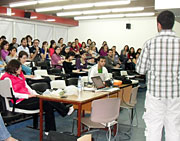 Over 100 pharmacy students attended a CPR training session, organized on March 14 by LAU's School of Pharmacy and NAPHASS, and named in honor of the late Dr. Najib Nimah, who was an assistant professor at the school.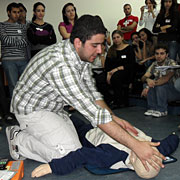 LAU pre-med student Shawky Amineeddine, who is a volunteer of the Lebanese Red Cross, demonstrates for participants how to extend the airways to conduct CPR.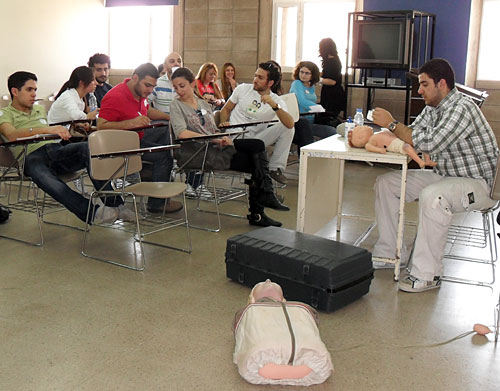 Pharmacy students learned how to provide CPR on resuscitation dolls, as part of the training which was offered by the Education Department of the Lebanese Red Cross.
Click on any photo above to view all three images.
March 18, 2010—
Despite the fact it involved waking up early on a Sunday morning to go to class, over 100 students from LAU's School of Pharmacy turned up for a full-day Cardiopulmonary Resuscitation (CPR) training program, offered by the Education Department of the Lebanese Red Cross and given by the department's active volunteer and LAU pre-med student, Shawky Amineeddine, on March 14, at LAU Byblos campus.
The first half of the day was comprised of a lecture on first aid, basic life support, and CPR, in which Amineeddine covered the basics of first aid, before beginning a detailed lecture and presentation about CPR.
The first aid part of the lecture began with an explanation of the "Rule of C's" — described as Check, Call, Care — that we should all remember in an emergency situation. First, we should check for safety — of ourselves, of the scene and spectators present, and finally of the victim or patient. Next, we should call for emergency assistance such as an ambulance or police, and finally we should care for the patient/victim.
Amineeddine reminded students that the individual providing aid, the "aider," is the "most important person in any emergency." He added that the spectators are the second most important because, "we want to keep the number of victims as minimum as possible."
We were reminded that the most important axis of the human body is the head, neck and spine, so patients should never be moved from their location unless it is by medical professionals. An overview of the significance of the other systems in our body — nervous, respiratory, circulatory and muscular — was presented to us in order of their importance to the human.
Attending a lecture and training program given by an LAU pre-med student to a large group of pharmacy students offered a perfect example of the university's interdisciplinary approach to medical and health care education, that is being unfolded through the prominent School of Pharmacy in addition to the new School of Medicine and the upcoming School of Nursing, paving the way to integrate further interdisciplinary approaches to education.
In his lecture on CPR, Amineeddine briefed the class about circumstances in which CPR might be necessary for adults, children and infants. He taught the class the proper bodily positions and, crucially, how to hyperextend the head to open airways by putting one hand on the forehead and two fingers on the chin, then tilting the head back.
After the basics were covered, Amineeddine offered the class a presentation, using "Annie," a resuscitation doll, on various CPR steps encompassing rescue breaths, timing, chest compressions, and using an external defibrillator — all of which must be conducted on a hard surface in the supine position.
In the afternoon session of the training day, the students were divided into three groups, in which they all practiced how to give CPR on a resuscitation doll.
Amineeddine, who has offered many CPR training sessions at various universities and organizations in Lebanon through the Red Cross, said that offering this at LAU was special for him as it is his university, and he was really happy with how the School of Pharmacy students responded to the event. "The field they are coming from is not far from first aid," he said. "They were very responsive. Lots of participation — It was very good."
This report was written by a participant of the CPR training session.

CPR program in Dr. Najib Nimah's honor
The training session, which was organized by LAU's School of Pharmacy and the No Apathy Pharmacy and Health Awareness Student Society (NAPHASS), was named in honor of the late Dr. Najib Nimah (1975-2009), who was an assistant professor at LAU's School of Pharmacy from 2007 till his untimely death last year.
"His passion for helping people never ceased, as he was involved in various community services," says Dr. Farid Sadik, Dean of LAU's School of Pharmacy. Dr. Nimah devoted most of his adult life in helping out the Lebanese Boy Scouts and the Lebanese Red Cross, in addition to other organizations.
"While at the School of Pharmacy he enthusiastically wanted to introduce students to CPR and first aid," says Dr. Sadik, adding, "He never had the opportunity to see his dream come true as he became ill."
The Pharmacy School is planning to offer the CPR training program named in Dr. Nimah's honor on a regular basis.