President's secretary says goodbye to LAU and Lebanon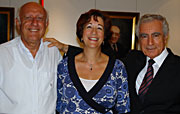 Ghusn flanked by former President Riyad Nassar and President Joseph G. Jabbra at the farewell reception.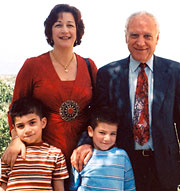 Ghusn with her husband Abdallah and two sons Sami and Andrew.
July 30, 2008—
Colleagues and friends gathered in the central administration offices in late July with "a smile and a tear" and "a mix of joy and sadness," as LAU President Joseph G. Jabbra said, to bid farewell to his secretary, Christiane Balakgie Ghusn, who is leaving Lebanon to settle in the U.S. with her family.
"I grew with the LAU family in a host of different ways, professionally and personally," Ghusn said. "I feel like I'm much more equipped now to take on any professional challenge. But I think, that wherever I go, I will always miss the family environment at LAU," she added.
Ghusn, who has worked at LAU for nine and a half years, served under Presidents Riyad Nassar and Joseph G. Jabbra. She said it was a privilege and an "extremely rewarding" experience.
According to Nassar, Ghusn was "sharp, efficient and committed to her job." Jabbra said she was "a role model for all executive assistants." She was always helpful and positive "no matter what the pressures were—and God knows, the President's Office is a pressure cooker," he added.
Vice President of Advancement Richard Rumsey said Ghusn had greatly helped as he sought to bring LAU's offices in Lebanon and the U.S. closer. He added that although she will be missed by her co-workers in both countries, "she will remain part of the family."
"I will carry this institution that I love and its celebrated stories of success wherever I am," Ghusn said.