Reference library inauguration honors LAU former president's family legacy
The reference library on the eight floor of the Beirut campus's Riyad Nassar Library was named after William Stoltzfus.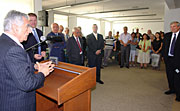 LAU President Joseph Jabbra addresses the crowd at the naming ceremony of the William Stoltzfus Reference Library.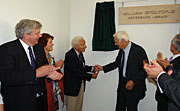 Philip Stoltzfus, Floyd Humphreys (the wife of James Stoltzfus), and Dr. Jabbra watch as James and William Stoltzfus Jr. unveil the plaque honoring their father.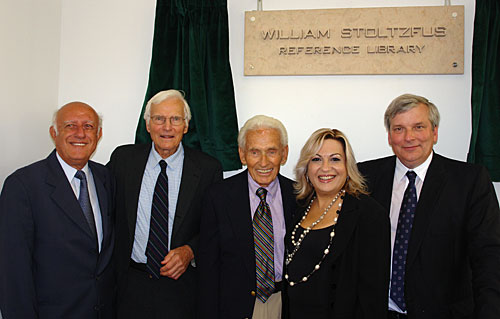 From left: Former LAU President Riyad F. Nassar; William Stoltzfus Jr.; James Stoltzfus; Cendrella Habre, director of LAU's Riyad Nassar Library; and Philip Stoltzfus.

Click on any photo above to view all three images
For three generations, the Stoltzfuses have retained a close connection with Lebanon: Dr. William Stoltzfus was one of the first presidents (1937–1958) of LAU — at that time known as American Junior College for Women and then Beirut College for Women; his son, William Stoltzfus Jr., was a recognized diplomat in the region; and his grandson Philip Stoltzfus is now a member of LAU's Board of International Advisors.

On July 20, the Stoltzfuses gathered at LAU to honor the member of their family that started it all.

Along with their families, William Jr., his brother James, and Philip joined LAU President Joseph G. Jabbra, the university's board members, faculty and staff to celebrate the naming of the reference library on the eight floor of the Beirut campus's Riyad Nassar Library after William Stoltzfus.

William Stoltzfus, who was a farmer in Ohio, came to Lebanon in 1919 as a missionary. Here, he met his wife — as did the following two generations of men in the family — and the two humbly worked "for the next 40 years … to devote their lives to the furthering of women's education," according to son William Jr.

William Stoltzfus began his service at AJCW in 1937, shortly after the college moved to the current location of LAU's Beirut campus, and stayed for over 20 years — some of the most active ones of the institution's history — becoming the president who has served the second longest term after Riyad F. Nassar (1982–2004).

"I am sure my father — though a modest man — would be pleased to know that despite the passing of the years, his legacy remains in the heart of LAU," William Jr. said at the ceremony, before the family unveiled a plaque bearing the reference library's new name.

According to Cendrella Habre, director of LAU's Riyad Nassar Library in Beirut, the newly renamed reference library houses 11,500 print volumes and 10 online databases, with 82 public workstations for users.

"A reference library is the core of the research process and a university is not a university without research," Philip says.

Habre agrees a library is at the center of any higher education institution. "A university is just a group of buildings gathered around a library," she says, quoting author Shelby Foote.

As such, LAU's libraries have expanded over time in line with the growth of the university as a whole.

From the one-room AJCW library, established in 1934, the Beirut-campus library expanded to an entire floor in the 1960s and was named after the very same former President William Stoltzfus. Since 2005, the Beirut library has moved to the Business Building and been renamed Riyad Nassar Library.

The LAU libraries in Beirut and Byblos are looking forward to expanding even further, along with the entire university.

"I'm sure my father would not have possibly imagined that one day the university [would have] more than 7,000 men and women involved in a curriculum ranging from women's studies to medicine," says William Jr.

Philip says he was initially drawn to become a BIA member because of his grandfather's connection to LAU. But later, "what I discovered by working with Dr. Jabbra is that the university has moved on to such a tremendous degree and is doing so many important things in Lebanon that it's a fundamental responsibility and privilege to be associated and [be] working with" it, he adds.