Rights and wrongs in women's prisons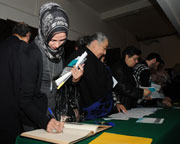 Guests signing in at the event pick up a copy of the guide.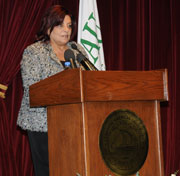 Anita Nassar, assistant director of IWSAW and the guide's author, addresses the crowd of diplomats, academics, LAU officials, and members of Lebanon's NGO community.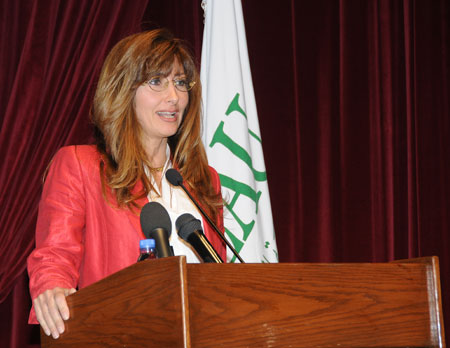 The director of IWSAW, Dr. Dima Dabbous-Sensenig, highlights poor prison conditions and the need for such a guide in Lebanon.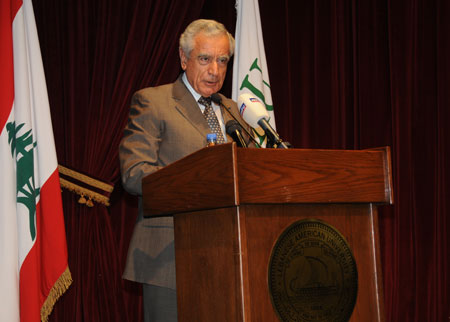 LAU President Dr. Joseph G. Jabbra emphasizes LAU's belief in the right of all individuals to live in dignity.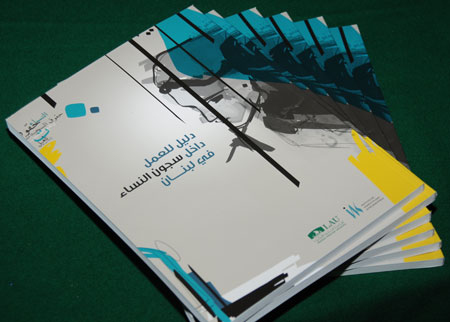 IWSAW's newly published Guide for Working in Women Prisons in Lebanon.
Click on any photo above to view all five images.
January 13, 2012—
The Institute for Women's Studies in the Arab World (IWSAW), in collaboration with the United Nations Population Fund, held a book launch for its newly published Guide for Working in Women Prisons in Lebanon, written by the institute's assistant director Anita Nassar. The ceremony took place on November 28, coinciding with the International Day for the Elimination of Violence against Women.
"At LAU, we don't differentiate among students according to sect, gender, or affiliation," said LAU President Dr. Joseph G. Jabbra at the ceremony. "We believe in the right of all individuals, of all prisoners, to live in dignity wherever they may live."
The book assesses the current conditions of women's prisons in Lebanon and the region, reviewing several rehabilitation projects undertaken in these prisons.
The guide consists of two sections.
The first section focuses on women prisoners' rights in Lebanon, with reference both to Lebanese prison law as well as international conventions and treaties. It includes a survey of the status of prisons and prisoners in the Arab world and Lebanon, spotlighting prisons in el-Khazen, Baabda, Tripoli and Zahle.
"We first started working in the Baabda prison, visiting the premises to see if a development program could be designed to improve the prison's condition," says Nassar. "This intervention stretched over ten years, during which several programs were implemented."
The second part of the guide comprises practical instructions and strategies to ensure the success of projects undertaken in women's prisons in Lebanon, and addresses the needs of inmates at the social, psychological, and legal levels. Particularly stressed is the importance of helping prisoners to develop income-generating skills, such as broidering and hairdressing, as a means of achieving social integration upon discharge.
"Prisoners, especially women prisoners, are deprived not only of their freedom, but also of their basic needs and human rights," said Dr. Dima Dabbous-Sensenig, director of IWSAW at the launching ceremony.
Indeed, among the reforms initiated were providing prisoners with day-to-day needs (such as soap and sanitary pads) and facilitating contact with their families and children, in addition to helping with anger management and conflict control.
"Four percent of the world's prisoners are female," says Nassar. "This guide is a cry out to all the people working in this field: let's unite our forces instead of overlooking — or competing against — each other. Let's work together for better results."