Riyadh Alumni Chapter pioneers room dedication at LAU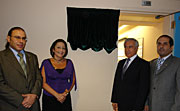 LAU President Joseph Jabbra and members of LAU's Alumni Chapter in Riyadh ready to unveil a plaque bearing their chapter's name next to the door of Room 1309.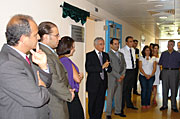 Jabbra (4th from left) thanks the alumni in the presence of LAU officials, staff and faculty in front of the door of the newly named room.
July 17, 2009—
Three members of LAU's alumni chapter in Riyadh returned to their alma mater on July 10 to name a room on the 13th floor of the Business Building on the Beirut campus, signifying the first of what is hoped to be an entire floor of rooms named after alumni chapters from around the world.
The three alumni from Saudi Arabia joined LAU President Joseph G. Jabbra, staff and faculty to unveil a plaque bearing their chapter's name next to the door of Room 1309.
"Hopefully this whole floor is going to be named after alumni chapters. [The Riyadh Chapter] has the credit of being a pioneer," says Samir Kadi, LAU assistant vice president for Development. He says several other chapters are already working on doing the same.
Director of
Alumni
Relations Abdallah Al Khal agrees that through this room dedication the Riyadh Alumni Chapter is "paving the road for other chapters to do the same."
At the unveiling ceremony, Jabbra thanked the representatives for their "magnificent gift" which he said "really embodies the sprit of LAU." He also reassured them that LAU is their home forever.
Ramzi El Bizri has been the treasurer of the Riyadh Alumni Chapter since it was established in 1995. He says dedicating a room on the campus they consider a home has been a dream of theirs since the beginning. "We want all alumni all over the world to keep in touch with our main home," he adds.
Marwan Daoud, who has been the president of the Riyadh Chapter since 2007, was the head of the Mount Lebanon Alumni Chapter before moving to Saudi Arabia in 2001. "I feel proud that we are graduates of this university," he said at the ceremony. "We belong to this university, to this community."
The unveiling ceremony was followed by a reception where Alumni Association Board President Leila Dagher shared several stories about the chapter and those in attendance discussed the importance of the donation, which has been accumulated since 1997.