The Little Prince, revisited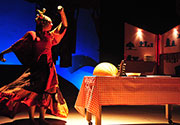 Dance and music are part of the Sikah Barazek's recipe.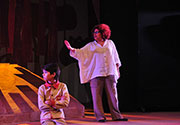 Director Lina Abyad directing the actors young lead Hani el-Hindi.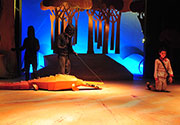 Sikah Barazek's ethos is evidenced by its repeated line: "We are all made of the same cookie dough".
Click on any photo to view all three pictures.
June 20, 2013—
Beirutis may have been trying to claim baklavas as their own for years, but barazek remain a Damascene delicacy par excellence. Honey-dipped and sun-kissed, barazek's cookie dough is pounded and kneaded into an amorphous, caramel-colored, clay-like mass before being molded into moon-shaped biscuits, sprinkled with pistachios and sesame seeds, and baked into golden brownness for twenty minutes.
Bravehearted households, however, might feel inclined to follow less conventional cooking instructions. The family that Jamal — the protagonist of Sikah Barazek, LAU's major production for the spring — grew up with, is one of these households.
"You have to play Maqam Sikah on the oud for six minutes while the barazek are cooking in the oven," Jamal's grandmother says to him, "otherwise, they will just be regular barazek."
Directed by Assistant Professor of Communication Arts Dr. Lina Abyad, Sikah Barazek is a theatrical adaptation of L'Origine(s) du Monde, a novella written by Lebanese architect and author Raafat Majzoub. An allusion to French realist painter Gustave Courbet's 1866 artwork of the same name, the novella follows young Jamal's journey of (self) discovery through a series of escapades and misadventures, where much like Dorothy of Oz's ruby slippers, barazek are all it takes to take him back home.
Poetic, melancholy, and deliriously funny, Sikah Barazek is a lyrical homage to Antoine de Saint-Exupéry's The Little Prince, transporting the audience on a whimsical fable of learning and discovery alongside talking trees and animals, and ultimately introducing the young Jamal to The Little Prince's author.
"It's a children's play, but it's a children's play for adults," says Abyad. "Everyone can watch it because everyone can relate to it. It's about friendship, life, death, family, politics. But more importantly, it's about disseminating the idea that all human beings are connected, that we are all responsible for each other's wellbeing and that of the world we live in."
Indeed, Sikah Barazek's ethos is evidenced by its repeated line: "We are all made of the same cookie dough. So it doesn't matter what shape or size or color we are."
When halfway through the play, Jamal's grandmother asks him to bite her arm, he promptly refuses. After a great deal of playful insistence, he reluctantly obliges, only to realize that his grandmother's pain has been inflicted on him as a result.
"We are all made of the same cookie dough," she said. "When you hurt someone or something, you are only hurting yourself. And when the people or things you hurt start to feel better, so will you," she tells her grandson.
"Empathy is not an inborn quality; it's a quality we learn," explains Abyad. "It's one of the most important qualities our children should have, and we can never teach it to them soon enough."
Architect Peter Matar found Sikah Barazek's spiritedness and unworldly wisdom both enchanting and candid. "Watching the play, I couldn't help but think of The Little Prince, one of my favorite books," he said. "It's very rare for a play to capture innocence and curiosity as effortlessly as Saint Exupéry does."