The race to innovate
LAU engineering students participate in the Shell Eco-marathon Asia 2014 and compete for the most fuel-efficient car.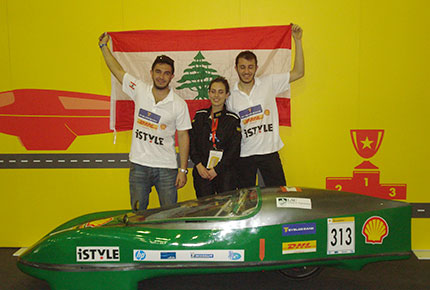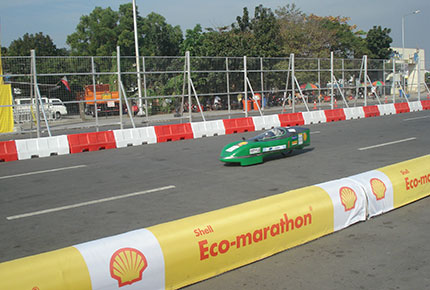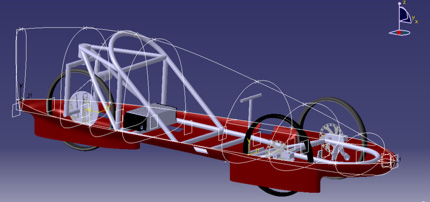 Environmentally friendly cars are the way of the future and on February 6-9 three LAU mechanical engineering students competed against over 110 university teams from around the globe in the annual Shell Eco-marathon that took place in the Philippines.
Students Maya Karakalla, Abdo Srour, Ahmad Fawaz and two faculty advisors in the Department of Industrial and Mechanical Engineering, Dr. Charbel Mansour and Dr. Wassim Habchi spent the entire year gearing up for the event designing their car which they affectionately dubbed "The Hulk."
"The students had to use the technical knowledge they acquired at LAU to come up with an efficient design as a solution to our everlasting problem of scarcity of energy resources," explains Habchi.
On D-day the race rules were simple: each group was given a set amount of fuel and winners were selected based on the total distance their car could travel.
The Hulk passed the stringent technical and safety inspections of the competition organizers and was deemed eligible to compete on the track—not an unworthy accomplishment. Unfortunately, certain technical problems manifested in the final laps that interfered with the electronic control unit of the car and prevented it from completing the race.
"This was a very difficult experience for the students to see their hard work over a whole year fade away due to a technical problem they had no control over," says Habchi. Ever the optimist, he adds: "Of course, it was a very good learning experience and definitely a life lesson."
In fact, the students learned more about the energy challenges faced by true urban environments where technical errors are par for the course.
"A unique experience—it was full of hard work and perseverance," says the students' team manager Abdo Srour. Fellow team member Maya Karakalla concurs: "An unforgettable experience that gave me the chance to represent my university and my country abroad," she says. "It was a unique challenge that pushed our efforts and hard work to the limit. As the driver, I was under pressure but at the same time determined to increase our chances of success with my driving strategies on track," she added before concluding: "Finally, the memories and knowledge we acquired are all that counts."
The LAU team was sponsored by Byblos Bank, iStyle, DHL and Shell.