Top Lebanese tech firm signs MOU with LAU
Students of computer science, engineering and business to be welcomed for internships at ITG, a top Lebanese firm.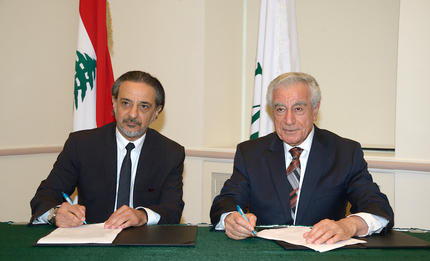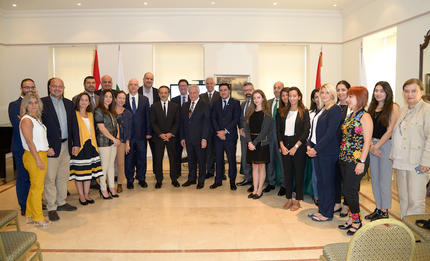 "Internships help bridge the gap between school and the workforce and help students fulfill their ambitions," said Chairman and CEO of Information Technology Group (ITG) Claude Bahsali during a ceremony held at LAU to mark the signing of a memorandum of understanding between his company and the university. The agreement will see a number of students, particularly those majoring in computer science, engineering and business, complete internships at ITG, part of the HOLCOM group.
"We have students majoring in Information Technology Management who will definitely be interested in this opportunity," said Said Ladki, Interim Dean of the Adnan Kassar School of Business, adding that students of finance and management would also be interested as IT itself is a strong business sector.
ITG offers services in a number of fields, including hardware, software, renewable energy and systems integration and, as such, will provide a variety of training opportunities for LAU students. "This will enable our students to add a practical dimension to the knowledge they attain at LAU," said LAU President Joseph G. Jabbra during the signing ceremony. "Our students are part of society, and during their student years must go back into society — particularly to the private sector — so they may modify their understanding of what they are learning in order to help society in its evolution."
Recalling the anxiety he felt upon graduating from university in the 1980s, Bahsali said that ITG has not only the willingness but also a responsibility to help students prepare for the workforce and mitigate their anxiety. Research, he added, showed that recent graduates who had completed an internship were more than twice as likely to find employment within a few months than those who had not.
Having stayed in Lebanon throughout the civil war, ITG is also keen to encourage Lebanese graduates to do the same now. "During the war, many of our employees wanted to leave Lebanon, so instead of losing them we encouraged them to open offices and branches in various countries," explained Bahsali, whose company now employs 5,700 people in 35 counties.
This agreement with LAU, he added, will help ITG compete with international companies that would take Lebanon's youth out of the country. "Internships are not only good for students, they are good for us too."