Training journalism students to identify and fight racism through data
The Canadian embassy and NGO Journalists for Human Rights collaborate with LAU professors to deliver a three-day workshop on data journalism and human rights.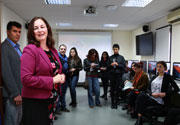 Ambassador Cameron addresses the students as the workshop starts.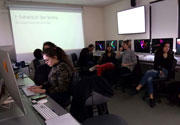 LAU journalism students and people from outside the university, including activists, took part in the workshop.
In a three-day workshop, LAU journalism students and participants from outside the university learnt how to identify and combat hate speech against refugees using data driven-stories and multimedia skills.
The event, held at LAU Beirut from February 10–12, was organized by the Multimedia Journalism Program as part of a new course "Data and Society"―developed by Assistant Professor of Digital Journalism and Social Communication Monika Halkort―with the support of the Canadian embassy. It focused on case studies about consent, transparency, reliance on social media, fact-checking, data visualization, and practice of tools and data relevant to concrete situations in Lebanon.
In collaboration with the Canadian NGO Journalists for Human Rights, who have years of experience in journalism training specifically targeting human rights issues, the workshop aimed to provide future Lebanese journalists with the tools that could enable them to influence human rights issues in their country. "You don't realize how powerful you are going to be as journalists," Canadian Ambassador to Lebanon Michelle Cameron told the participants. "But with that power comes responsibility. You have to learn critical skills and objectivity. This is going to help you to move from emotion-based reporting … to fact-based reporting … Maybe some of you will help change the situation by highlighting human rights issues."
The workshop exemplified the new direction LAU is taking with journalism education, in completely redesigning the old B.A. in Communication Arts and developing a specialized degree in Multimedia Journalism that equips students with the skills necessary in today's data-driven media environment. "Data and multimedia journalism is the future of the profession," said Jad Melki, associate professor and chairperson of the Communication Arts Department. "We want to be a pioneer in this area, and we are the only university in the Arab world that offers multiple courses in data journalism and advanced forms of news." Defining a journalist's task, he added: "Being a journalist starts with the role of informing the public and upholding human rights through exposing violations when we see them. It's even more relevant to our society."
The ability to expose and help to redress human rights abuses by giving civil society a voice is also one of Halkort's goals. "We try to bring specialists to our students because it's very interesting for them to have access to specific topics, and human rights is a core subject," she said. "Journalists no longer have the monopoly on public opinion; they have to go along with civil campaigns. That's why we offer some skills in these trainings for dealing with civil society. You have to organize your work around facts, and that is where journalists and activists meet. Even in civil initiatives, building data is very important to compensate for the lack of public infrastructure."
For the students involved in the workshop, acquiring new techniques was highly stimulating. Zubaida Jamal, a senior in journalism studies, said she learnt a lot, such as cleaning and using data as well as validating images online. "The most important thing for me was to be able to use data for practical reasons," she said. "We are not giving the public numbers without a context; we have to put stories to them. This is definitely going to be useful later on."