UNESCO Club delegate interacts with Arab peers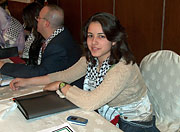 Tala Itani at the conference.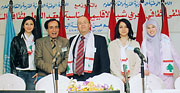 Itani with the Lebanese delegation.
May 5, 2006—
Tala Itani, vice president of LAU's UNESCO club, was the only university student to represent Lebanon in the Sub-Regional Arab Cultural Forum organized by the Palestinian National Commission for Education, Science and Culture in Amman, Jordan.
"I am very much interested in cultural diversity. I was engaged in such activities at a very early age, working with different NGOs and social groups," the 18-year old International Affairs student said.
Student delegates from schools and universities in eight Arab countries including Qatar, Kuwait, Palestine, Egypt, Yemen, Syria, Jordan and Lebanon participated in the event March 27-30.
Conference debates focused on ways of promoting a culture of peace and security in the Arab world through the youth's participation in UNESCO clubs.
In addition to Itani, the Lebanese delegation included two students from public high schools, namely Soha Elias Haddad and Fatima Mohammed Al Sayyed Hussein. Sagesse High School coordinator Elie George Eid supervised the team.
This is the first such conference in the Arab world. In her speech, Itani suggested this meeting should not be held in Arab countries, as these countries know their own causes very well. "Awareness on Arab causes should be tackled in conferences hosted in other countries across the world," Itani stressed.
The LAU student briefed participants on the history of UNESCO clubs in Lebanon and their activities in promoting human rights and a culture of peace. Itani called for organizing more joint activities between UNESCO clubs on regional and international levels.
Student George Skaff established the first UNESCO club in Lebanon in 1948. There are 15 such clubs today in Lebanese universities and schools.