Painting Beirut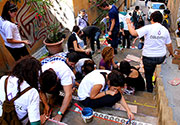 Dihzahyners' latest artistic endeavor took place on October 27, 2012 at Daraj el-Beera stairs in Mar Mikhayel.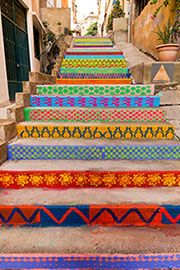 Over 50 people armed with brushes and goodwill got down to painting.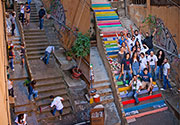 Knowing that visual surroundings affect people's moods and behavior, Dihzahyners' ultimate goal is to make people walk down the colorful stairs feeling happy and refreshed."
Click on any photo above to view all six images.
November 5, 2012—
Have you noticed something different about Beirut lately? The streets are beaming piquantly with color. The city's copious stairs are glowing with exultation - colored lozenges of mauve and turquoise and painted piano keys of pink and green have turned Beirut's stairways into almost living entities.
You could say that Beirut has its very own harlequin guardian angel, its unique Batman of the arts: a group of predominantly LAU alumni under the name Dihzahyners who paint the capital's copious stairways and help turn Beirut into a friendlier, more colorful city.
Dihzahyners' latest artistic endeavor took place on October 27 when over 50 people armed with brushes and goodwill converged at the Daraj el-Beera stairs in Mar Mikhayel and got down to painting.
The event, dubbed Paint Up! V.5, marked the ensemble's fifth stair-painting venture, and drew many eager newcomers to the venue.
Painting stairs was customizable this time around; the Dishayhners squad put a miscellany of stencil patterns together, and people could choose which of them to paint on the stairs. The result was a colorful, eclectic mix of motifs and designs that brought vigor and congeniality to the area.
"I learned about the event from Facebook," says Léa Yammine, a recent graduate from the University of Leeds, U.K.. "I used to walk by some of the painted stairs in the neighborhood and think, 'What a brilliant idea!' When I knew I could be part of this initiative, I just couldn't wait to do it."
If you're wondering how it all began ,"It all started with the click of a 'Like'," says LAU alumna and designer Lana Chucri, co-founder of Dihzahyners. "A simple inspirational image we saw on Facebook of artists painting stairs in Germany with vibrant colors.; the possibility of executing this in Beirut started there."
Indeed, the idea drew its first breath on April 8, 2012, when over a dozen LAU designers congregated at the stairs of Sakiet el-Janzir and got down to painting.
"We realized that we could add energy and vigor to our city by simply painting certain locations that needed it - and where else to start but with the stairs? They are plentiful in Beirut!" says LAU alumnus and Dihzahyners co-founder Jubran Elias.
As beautifully astonishing and heartwarming as the end product may be, painting Beirut's stairs is not an easy task. "We have to get the approval of the municipality, as well as that of the neighboring residents," says Elias. "We inform them of what we're doing, and make sure everyone is on board and supporting our initiative."
As the saying goes, 'life imitates art,' and Dihzahyners' ultimate goal transcends the confines of estheticism for that reason. "Our initiatives aren't about painting stairs for the sake of it," says Chucri. "We want to change the city's landscape and embellish the communities that people live in. Our visual surroundings affect our moods and behavior. We want people to walk down those colorful stairs feeling happy and refreshed."
Doubtless, Jubran and Chucri's hopes have long ago ceased to be sheer aspirations, and passers-by are far from being oblivious to the sanguine effect that Dihzahyners' painted stairs have imparted on the city - and themselves.
"I like the fact that the saturated colors stand out and don't blend into the rest of the scenery," says Samer Khouri, a computer engineering graduate from the American University of Beirut, as he walks by the Mar Mikhayel stairs. "Maybe it's a metaphor that represents those who think differently in this country, the outliers and game changers."