16th International University Theater Festival opens at LAU Beirut
LAU students bring joy to the community and learn as they come together with student productions from Lebanon and different countries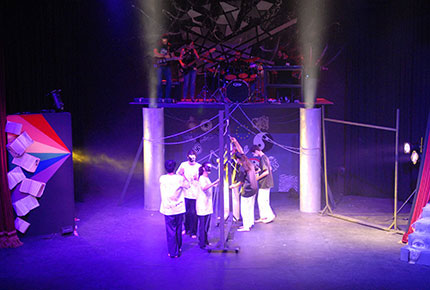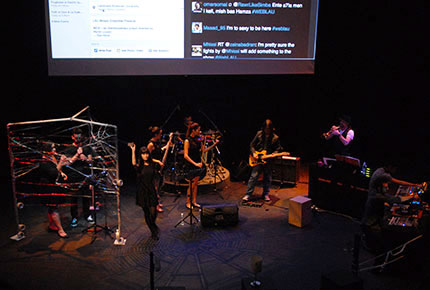 Us and Them, the play that opened the 16th International University Theater Festival at LAU Beirut, is about the unending loop that human history finds itself repeating – people find land, divide it instead of sharing it and eventually kill over it. It is about social identification, the herd mentality and the divisions humans draw between religions, races, languages or otherwise.
"We were in Irwin Hall finishing last minute preparations for the opening when we overheard Dean Nashaat Mansour's speech outside," says LAU student Sirine Dardari, who directed the play. "He talked about cultural resistance, about how important it is for us to unite, no matter where we are from. I think the festival itself is a way to explain how there are no boundaries between us as people. Here we are, sharing our knowledge of theater and our artistic points of view crossing language barriers and still we understand each other!"
Dardari referred to languages because this year, the festival hosts university theater productions from Lithuania, Italy, Turkey, Syria and Lebanon. "People are very friendly here, their hospitality is wonderful. We were really in shock when we arrived and found that LAU had built the set for us, exactly like our original one in Lithuania. We are truly thankful to the organizers!" said Egle Kižaitė, the director of the production from the Lithuanian Academy of Music and Theatre. Tonight, they will be presenting their version of the Decameron, a collection of lively tales about a group of young Florentines who escape the plague stricken city to seclude themselves in the countryside in search of lighter matters.

The festival will host numerous workshops in subjects as diverse as capoeira, sound art and Jebe Bara drums, in addition to student productions from international and Lebanese universities. Dr. Fakiye Özsoysal, associate professor at Istanbul University gave a lecture entitled Turkish Feminist Playwrighting & Feminist Theatre Companies in Istanbul.
"It is a learning experience for students. We've mainly been working on teaching them how to read a fiche technique. But in fact, the students – 35 are working on the event this year – learn how to run a festival for five days," says Mona Knio, LAU associate professor of theater in the Department of Communication Arts and member of the organizing committee.
Ayman Ghali, member of the festival crew, is a Communication Arts student busy in the light room above Gulbenkian Theater. "I'm getting a lot of experience here in technical things and I'm also learning how to work on a team. I've been doing the social media promotion for the festival too. Yesterday I worked for 14 hours," he says smiling through his barely visible exhaustion.
The International University Theater Festival is free and open to all who wish to attend. Details on the festival's schedule of plays and workshops can be found here.