$2.4-million grant extends Tomorrow's Leaders scholarship program
LAU's MEPI TL program receives a second grant from U.S. government sponsors to offer full scholarships to 18 more students from Arab countries in 2011–2012.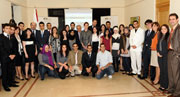 The LAU–MEPI TL scholarship program brings together students with leadership potential from different Arab countries.
The Tomorrow's Leaders scholarship program at LAU was awarded a $2.4-million grant by the U.S. government's Middle East Partnership Initiative this month, allowing an additional class of students to complete an all-expense-paid four-year bachelor's degree at LAU.
The grant will finance the expenses for 18 students with leadership potential from Saudi Arabia, Algeria and potentially Iraq beginning the 2011-2012 academic year.
"We've done a lot to improve our program," says Dr. Walid Touma, director of the University Enterprise Office charged with overseeing the LAU-MEPI TL program, explaining why he believes LAU was among the recipients selected from a large pool of institutions that competed for the grant.
The office won its first MEPI TL grant three years ago and welcomed its first class of six students in fall 2008. Sixteen additional TL students joined LAU in 2009, and 15 more this year.
TL students are selected from throughout the Arab region to receive scholarships that include coverage of tuition, housing and a monthly $500 stipend. LAU co-finances the program at a rate of about 25 percent.
The program is designed to build the leadership skills of students, placing a heavy emphasis on civic activism, entrepreneurship and women's participation. Over half of the students are women.
"We're creating more empowerment, more engagement among the students in terms of owning up to their leadership duties," Touma says.
He adds that the entire program is going through a major revamp of its services. Recently it began requiring student applicants to record video interviews in order to gauge their personalities, characters and commitment to the overall mission of the program.
Currently, program coordinators are also forming a committee to evaluate student progress.
"We're investing into a potential leader and this is a big gamble," Touma says. "We need to know if the students are delivering what the program is supposed to do for them and the community."