LAU holds a Celiac Awareness Day
Scientists and patients come together to deliberate on the disease and its effects on the Lebanese population.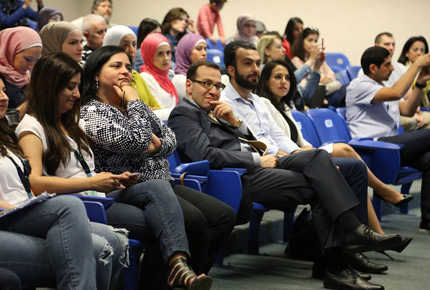 On May 28, LAU's Nutrition program of the Natural Sciences department held a scientific meeting at the Beirut campus in cooperation with the Lebanese Celiac Association and AUB medical experts to increase awareness of celiac disease in Lebanon. Highlighting its pioneering aspect, the scientific venue titled 'Celiac Disease from Another Perspective' offered a platform for members of the medical community, dieticians and patients to discuss this physical condition and its effects on the Lebanese population.
During the first session, titled 'Celiac from a Medical Perspective', AUB's Dr. Nadine Yazbeck, assistant professor of Clinical Pediatrics and Dr. Kassem Barada, professor of medicine of the Department of Internal Medicine, offered the medical definition of this disease. Barada explained the condition as an autoimmune disorder that occurs in genetically predisposed people where the intake of gluten damages the small intestine. "In some patients," he clarified, "symptoms may be mild but in others they can be severe and, in isolated cases, even life-threatening if not treated accordingly."
Gluten is a protein which is found in wheat, barley and rye. In the case of patients suffering from celiac disease, when gluten is ingested, an enzyme called tissue transglutaminase modifies it into a chemical causing an immune response that inflames the lining of the small intestine. For this reason, a special gluten-free diet is needed.
In the second part of the conference, 'Celiac from Nutrition and Food Science Perspectives', Maya Bassil, assistant professor of Human Nutrition at LAU, discussed the importance of following a strict gluten-free diet for celiac patients, while addressing the misconception that the diet is beneficial for the overall population. Interestingly, she pointed out that the hype created by marketing gluten-free products as healthier, or as an aid to weight loss, is misleading and incorrect.
As far as the integrity of the products is concerned, Bassil added that "LAU is conducting two studies at present in Lebanon on celiac disease. The first one looks at the level of gluten contamination in products labelled in the country as gluten-free. The second study examines the nutritional status of a gluten-free diet to determine if it is healthy and complete."
Hussein Hassan, assistant professor of Food Science and Technology at LAU warned that "three percent of food labelled as gluten-free is in fact contaminated." The importance of avoiding food trans-contamination and the rules to be observed while eating out were some of the practical issues discussed by Sally Haber, a clinical dietician.
As the event concluded, celiac patients explained the key role the Lebanese community can play in helping them lead a "happy, healthy, gluten-free life." For Imad Khairallah, who is not celiac but has severe gluten intolerance, his quality of life was dramatically transformed once he was diagnosed and went on a gluten-free diet. Alice Saab, member of the Lebanese Celiac Association, who has two children grappling with the disease, hoped that "step by step we will spread awareness about this condition in Lebanon."