Walid A. Mroueh pledges support to LAU
LAU's School of Pharmacy generously backed by member of pharmaceutical companies following a long-standing partnership.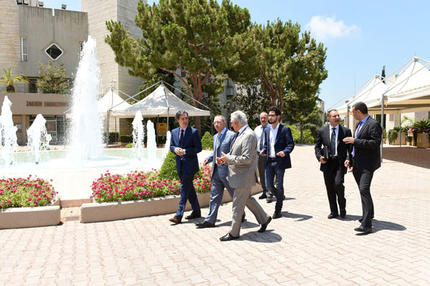 Walid A. Mroueh, member of the board and executive management of both the Food & Drug Corporation s.a.l. and Mersaco, Lebanon's leading importers and distributors of pharmaceuticals and cosmetics, has pledged $125,000 to the LAU School of Pharmacy which will be channeled to the school's capital projects. In recognition of his generous contribution, the school's conference room on the sixth floor of the Gilbert and Rose-Marie Chagoury Health Science Center will bear his name.
The signing ceremony, held at the Byblos campus last month, represented Mroueh's commitment to education and the university, and to leaving a lasting legacy on LAU's campus.
"The plaque bearing my name is just a symbol for strengthening the collaboration with LAU's School of Pharmacy to benefit both our pharmaceutical companies and the school," said Mroueh at the event.
In addition to the ceremony, Mroueh and his son, Ali Mroueh, took part in an official campus tour and were hosted at a lunch with LAU President Joseph G. Jabbra, Provost George K. Najjar, Imad Btaiche, dean of the School of Pharmacy, Nassib N. Nasr, assistant vice president for Development, and Ghandi Fala, associate director of Development, as well as other senior university officials.
"We are privileged to have Dr. Mroueh support LAU. His generosity will ensure that our school of pharmacy will continue to provide excellence in education and prepare students to reach their full potential in serving society," commented Jabbra at the signing event.
For Dean Btaiche, the donation marked the culmination of a long association and an invaluable contribution to the school. "We could never have imagined two years ago that we would be right here today honoring Dr. Mroueh and his devotion to the university. We have watched this partnership grow for several years and cannot wait for what is to come to further support our pharmacy students' education," he said.
Affirming his belief in LAU's educational approach, Mroueh remarked, "What stands out about the LAU School of Pharmacy is that it focuses not only on equipping students with outstanding knowledge and skills, but on forming the character of its graduates as leaders."
Mroueh has been a longtime supporter of LAU, providing his expertise to the School of Pharmacy's advisory board. The pledge is his first personal financial contribution, although Mersaco has been a long-standing corporate supporter of the university.