A better tomorrow
In line with the university's ethos of serving the community, LAU students volunteer to help migrant workers improve skills.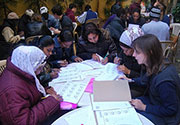 A group of volunteer LAU students have decided to fight back the social injustice migrant workers face in Lebanon by joining the Migrant Workers Task Force.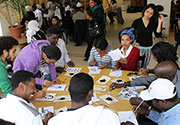 The exchange goes both ways, says LAU exchange student Ferdaous Naili.
Click on any photo for larger version.
According to the non-governmental organization KAFA, Lebanon is home to approximately 200,000 foreign domestic workers mainly from across Asia and Africa. In 2008 Human Rights Watch published a report stating that one migrant domestic worker in the country dies each week due to unnatural causes.
The fact that non-Lebanese domestic workers have few legal protections under Lebanese labor laws makes migrants in the country particularly vulnerable to exploitation.
Alarmed by the inhumane situation of foreign workers, a group of volunteer LAU students have decided to fight back against this social injustice, by joining the Migrant Workers Task Force (MWTF). For the past several years, a MWTF committed army of volunteers has been providing free workshops to migrant workers to teach them skills such as communication, cooking and computing - skills that the organization hopes will significantly improve their lives.
By far, the language lessons, which focus on English, French and Arabic, draw the biggest crowds and are held free of charge once a week at Beirut's Alt City.
May Habib, a research assistant at LAU's Institute for Migration Studies (IMS), is the coordinator of language classes at the Migrant Community Center in Nabaa.
"I believe that providing language classes to migrant workers gives a community of people, who have been unable to continue their education, a space to build themselves professionally and personally," explains Habib. "Relationships are formed between the students and teachers and an opportunity is provided to get to know members from different communities."
Her work at the IMS greatly influences her experience as a MWTF volunteer since the IMS has the aim of closely collaborating with government and non-government organizations that deal with diasporic migrant communities and migrant workers in the region.
"I became involved with MWTF at the same time as I began my work at the institute," she says. "While MWTF provides me with the space to be active on the ground and get to know the migrant communities currently living in Lebanon, the institute, through my work on the Lebanese Diaspora Project, allows me to fulfill my intellectual thirst for understanding migration patterns through research management."
LAU exchange student Ferdaous Naili is proud to be part of such a highly committed and dedicated circle. "The work the MWTF does really makes a difference in people's lives," she says.
"But the exchange goes both ways, we learn from the migrants as much as they learn from us."

The MWTF currently works with over 130 migrants at its three centers: AltCity in Hamra, the Sudanese Cultural Center in Clemenceau and the Migrant Community Center in Nabaa. If you would like to volunteer, visit the following site: http://mwtaskforce.wordpress.com/join/