A blessing or a curse
Lecture tackles the politics of Lebanon's potential energy resources.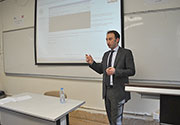 Malek Takieddine addressing the audience.
Click on photo for larger version.
This week, the Ministry of Energy announced the list of pre-qualified companies wishing to bid on licenses to explore off the shores of Lebanon for oil and gas. Among the list of applicants were energy firms from Iran, the US, Japan, Russia and Denmark, among others.
While the topic of offshore oil and gas appears to be an economic one, Lebanon's potential reserves are actually a lesson in international politics.
As such, Malek Takieddine, a lawyer specialized in energy issues, visited LAU Beirut on April 17, giving a lecture to a group of international affairs students about the thorny politics of oil and gas.
"Let's start with Israel," said Takieddine of Al Jad legal services. When the Lebanese government signed the Exclusive Economic Zone agreement with Cyprus in 2007, he explained, there was a dispute about the maritime boundary point between Lebanon and Israel. Cyprus and Israel shook on a boundary that gave Israel more area, and the boundary line was drawn 17 kilometers shy of what many believe are rightfully Lebanon's waters, creating a 873-kilometer disputed zone.
"Most theories about newly discovered resources, particularly in a divided society like Lebanon, associate resources with conflict," said Associate Professor Dr. Imad Salamey, who hosted the expert. "So it is very important for us to understand how to avoid conflict, if we ever do find any oil."
Takieddine explained how multinational oil companies have a track record of getting along, despite their host countries' diplomatic disputes. Perhaps because of their immense wealth, they also have a reputation for solving disputes amongst themselves, without involving their capitals. Given that, some analysts believe negotiations over the maritime boundaries could lead to a renewed dialogue between Lebanon and its neighbor to the south.
"It's really exciting to hear about the possibility of negotiations between Israel and Lebanon concerning the maritime border," said international relations graduate student Geoffrey Nelson. "The economy is a huge component to all political theory, and when you're talking large sums of money between countries, it can cause war or peace."
Others think any prospect of goodwill is overly optimistic.
"Having oil in Lebanon will increase our problems," said Nesrine Barakeh, International Affairs graduate student. "But I hope we can benefit financially as a country, as a society, as a people, and not as politicians."
Whether oil and gas are struck off the shores of Lebanon or not, exploration efforts are sure to receive plenty of attention, as bidders, required to have at least $10 billion in assets, vie for a slice of the goods.
"Our students must think about ways to undermine sources of conflict that this discovery may lead to in Lebanon now, while we are trying to attract international companies, and later on, when we start extracting these resources and reaping the benefits," added Salamey.
Lebanon's current political situation will also play a role. "We're not sure what's going to happen with the government. Regional powers are shifting, and ironically we're discovering this huge resource at the same time," said Takieddine. "That can impact the relationship between Israel and Lebanon, Lebanon and Cyprus, and oil companies can play a big role in influencing policies."