A call to creativity
LAU brings students from different disciplines together for the love of writing.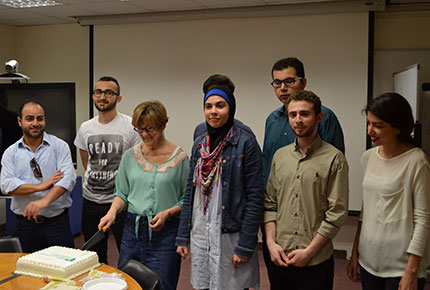 The concern with the existence, nature and attainment of happiness has shaped centuries of philosophical discourse. Not shying away from tough questions, this year's writing competition invited students from all disciplines to submit essays and short stories revolving around the theme: 'The road to happiness."
The competition, which culminated with the distribution of awards on April 20, is one of several initiatives promoted by LAU to encourage creative writing. The previous weekend, a workshop was held by English professor Jenine Abboushi aimed at training students in different styles of writing.
"These initiatives reflect LAU's desire to create―through its renewed English program―a generation of professional writers who can produce content geared toward different types of media," says Abboushi. "The variety of writing exercises is expressly designed to unleash the students' capabilities."
The event was also an occasion to remember young poet Haas Mroue, who died of a heart attack in 2007. Thanks to his mother Najwa Mounla, who donated the event's hosting fees, LAU students have the chance every year to experiment with writing and find their own voice.
According to professor Samira Shami, hosting such events is of paramount importance to "encourage all kinds of students to communicate and produce content that is creative, well developed and catchy."
These are the criteria that she and the other three members of the jury used to assess the short stories and essays submitted as part of the fourth edition of the Creative Writing Competition, revolving around the theme of happiness.
For Christian Chadd, a third-year psychology student and winner of the short story award, happiness can be rendered metaphorically through the martial art of jiu jitsu. In his story, the way the characters wrestle mirrors their life problems and their approach to solving them. Both the process of wrestling and the success in doing so are emblematic of the quest for happiness.
"I think very deeply about things but sometimes I lack the clarity to express them," says Chadd. "This is why I enjoy occasions like this one, where you are encouraged to put your thoughts into words."
Biology student Zeinab Sbeity, recipient of the prize for the best essay, tackled the theme of happiness from a more philosophical angle. "Happiness to me," she writes, is being the best version of "you ; a human designed to do and engineered to give."
According to Sbeity, biology and writing are not at the opposite ends, but are both driven by creativity. "Biology fuels your thinking by training you to be aware of your surroundings, and this unleashes many inner feelings," she says. "Through writing, I can then express them and make sense of it all."