A champion year
LAU's athletics department ends academic year on high note.
More than 14 countries and 750 athletes competed in Ibiza, Spain on April 29 at the EuroIbiza 2012 Student Sports Tournament where LAU was crowned "Champion University."
LAU proved it was a force to be reckoned with as LAU-Beirut students competed in a plethora of sports: basketball, volleyball, futsal, football, tennis, and table tennis.
With exceptional results in nearly all categories and capturing first place in both women's tennis and men's table tennis, LAU accumulated enough points to be honored with the highly prestigious "Challenge Cup" during the closing ceremonies.
Mohamad Rifai, third year computer science major, recalls the feeling of winning top place in table tennis, "It was great being able to represent LAU internationally, we were all extremely happy with the outcome."
The thrilling win is the most recent in a series of impressive local and international victories.
LAU President Dr. Joseph G. Jabbra applauds these athletic achievements. "We are proud of our teams who shine academically and who exhibit on the field LAU's inspiring spirit and commitment to excellence in all that we do," he says.
Such achievements coincide with two noteworthy developments for LAU's athletics department.
The first is the appointment of Sami Garabedian, director of athletics at LAU Beirut, to serve a four-year term on the Education Committee of the International University Sports Federation (FISU).
Representing LAU internationally, and as the only member to hail from the Middle East, Garabedian recently returned from a conference in Taipei City, Taiwan, where he gave a presentation entitled "Leadership, influence and power."
As LAU makes its mark in the international arena, Garabedian hopes that his appointment "opens the way for future cooperation between LAU and other universities worldwide," he says.
LAU's athletics department has even further reason to celebrate with the announcement of a $6 million dollar donation from Antoun N. Sehnaoui, chairman and CEO of Société Générale de Banque au Liban, which will be directed towards building a new athletic center on the Byblos campus.
Looking to the future, LAU will proudly boast a presence at the London 2012 Olympics with Karen Chamas, Arab and Asian Judo champion, representing Lebanon.
Commenting on Chamas' recent qualification, Joe Moujaes, director of athletics at LAU Byblos says, "Karen will carry the LAU flag in the most prestigious sports event in the world. She is our LAU pride."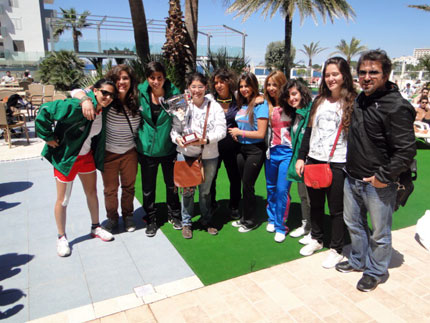 The LAU's women's futsal team took third place at the EuroIbiza 2012 Student Sports Tournament. From left to right: Reine Alameh, Shaden Fakih, Sanaa Chahine, Nour Itani (with the Challenge Cup), Lama Chidiac, Lynn Ladki, Yara Ghabris, Natali Farran, Tamara Sleiman, Coach Oscar Boustany.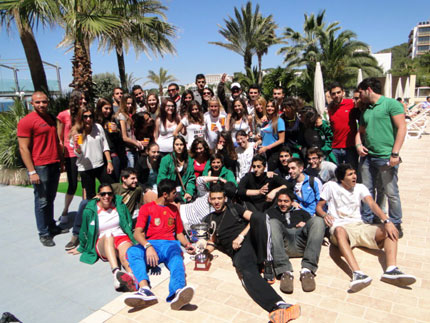 LAU Beirut athletes celebrate being crowned "Champion University" in Ibiza, Spain on April 29. "The LAU group to Ibiza were a big, happy family who supported one another throughout the competition", says Sami Garabedian, director of athletics.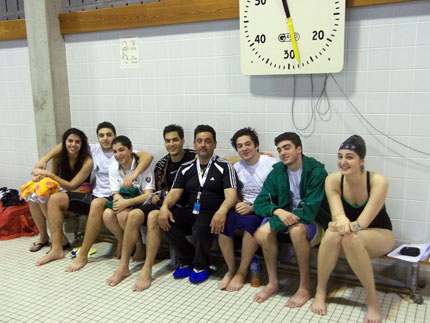 The combined swimming team of LAU Beirut and Byblos made a powerful impression at the first International Championship for Universities and Colleges (ICUC ) tournament held in Leuven, Belgium with three members bringing home gold medals.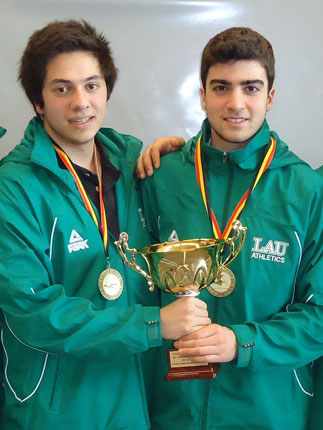 George Abi Kanaan earned the top prize for the 50m freestyle, George Fattoul lead the 100m butterfly and Joanne Skaff took home gold in the 100m backstroke competition.
The winning streak continued in Belgrade, Serbia where LAU's handball team claimed victory in the face of stiff international competition.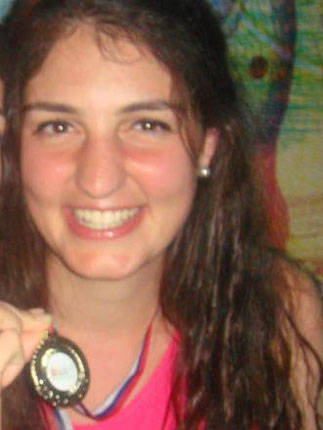 At the same tournament Kim Sadi from the Byblos campus triumphed over her competitors and established her place at the top once more on May 2-8 when she lifted the Belgrade Sports Tournament Cup.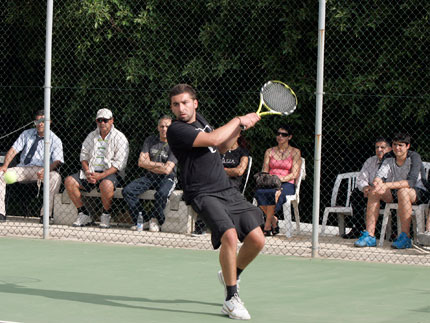 LAU athletes also impressed with tennis player Rami Alayli, winning the University of Balamand Tennis tournament and beating his LAU teammate, Anthony Dibahi, in the final round.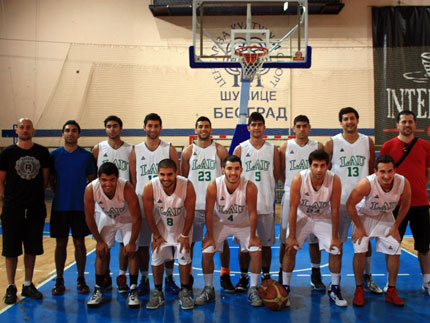 The LAU Byblos men basketball team are now defending their title in the University Sports Conference semifinal.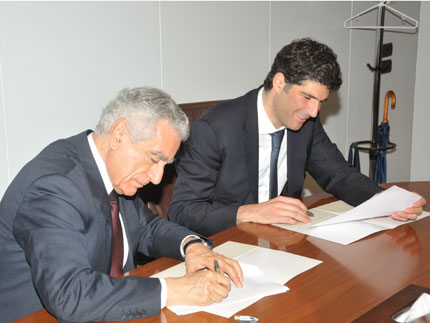 LAU President Dr. Joseph G. Jabbra and Antoun N. Sehnaoui, chairman and CEO of Société Générale de Banque au Liban, formalizing the donation to build the athletic center in LAU Byblos .