A culture of independent learning
LAU Byblos holds its 15th annual Arts and Science Fair.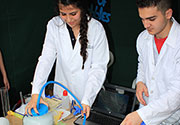 Hundreds of middle and high school students took part in the event.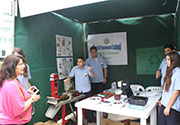 The Monsif National School students presenting their recycle paper project.
Click on any photo to view all two pictures.
Hundreds of eager middle school and high school students gathered at LAU Byblos to participate in the Dean of Students Office's 15th annual Arts and Science Fair on May 9-10.
Over thirty competitions — in sciences, engineering, computer programming and arts — took place during the two days involving 15 faculty members from different disciplines. While the students' exhibitions were wrapped up with a playful exterior, there was evidence of rigorous research and serious scholarship.
"This event is in line with LAU's mission to promote a culture of learning through outreach activities," explains Dr. Barbar Akle, assistant dean at the School of Engineering and assistant professor in the Department of Industrial and Mechanical Engineering.
LAU volunteers visited schools and led interactive workshops and seminars. "The experience is genuinely enriching. We believe that teaching is the best way to learn," said Akle who was pleased that a great number of LAU university students expressed interest in volunteering.
"Working with younger students is a great opportunity to broaden our leadership abilities," says third-year mechanical engineering student and chair of the American Society of Mechanical Engineers (ASME), Elio Challita. The ASME participated by helping students create sumo robots.
"The event was a great success as the students were very excited to present their projects and compete," he continued.
One of the running competitions was the Big Science Challenge where the university challenged students to imagine green projects in their schools, stimulating the students' ingenuity and promoting outside-the-box thinking.
Monsif National School took up the challenge presenting a series of interesting ways to make their school greener. One way was to recycle paper and make useful products such as bookmarks from the recycled material. "This has been a great experience and we are grateful that LAU gave us this opportunity," says thirteen-year old Michael Harb.
The group representing Les Filles de la Charité High School created a Rube Goldberg machine, an intentionally over-engineered machine that performs a simple task in a complicated way, typically making use of a chain reaction.
"This took about three months of work," explains sixteen-year old Martine Mitri. "We didn't have any teachers helping us, we were totally independent," adds teammate Tonie Yaacoub.
This spirit of independence was celebrated at the end of the day when rewards were given out to the first three winners in each competition. The school that wins the most trophies — attributed by a jury made up of LAU faculty — will earn an LAU scholarship for one of its students.
"Every year young students from different backgrounds are eager to show their talents," said Dean of Students Dr. Mars Semaan. "This Fair has so many different competitions that respond to most of their young talents and self-actualizations. We actually have many students who start participating at the age of 12 and continue to come until they graduate from high school."

The Science School of the Year award and the Arts School of the Year award went to Saint Joseph School, Kornet Shahwan. The Science 50% Scholarship award went to Kevin Boutros from Saint Joseph and the Arts 50% Scholarship award went to Rasha Noureddine from Greenfield College.