A feather in their cap
LAU signs a first-of-its-kind experiential agreement in regulatory affairs with the Ministry of Public Health.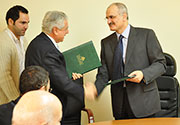 The signing ceremony took place at the Ministry of Public Health.
Click on any photo for larger version.
On behalf of its School of Pharmacy (SOP), the Lebanese American University signed today, December 18, an experiential agreement in regulatory affairs with the Lebanese Ministry of Public Health.
The agreement, effective December 2012, will allow SOP students - through a one month elective - to use the ministry's facilities, personnel and services following a structurally designed plan to rotate through several departments and services at the ministry as well as its affiliated centers.
"This collaboration is a unique opportunity for our students as it draws on the wealth of knowledge and experience provided by the ministry's professionals and personnel," says LAU President Dr. Joseph G. Jabbra.
"It contributes to building a new generation of students that are more aware of their role within their profession and in serving their community," he added.
The Minister of Public Health Dr. Ali Hassan Khalil expressed his satisfaction towards a "first-of-its-kind collaboration" adding, "It is part of the ministry's strategy to provide our young generation with the opportunity to gain new skills that will help them make a difference when they are in the job market."
This event reminds us that pharmacists are involved in many steps from drug research and development, clinical trial, drug manufacturing, to regulation, promotion, distribution, surveillance and last but not least monitoring on patients.
"This initiative is very important as it will allow our students to have a comprehensive visions of what their profession is about; to learn what they cannot be taught in the classrooms," says SOP Dean Dr. Pierre Zalloua. "Through a global approach, the school is striving to offer its graduates the best in terms of education and hands-on experience. This is what will make our students unique."
Dr. Imad Btaiche, associate dean for academic affairs at SOP is part of the group at the origin of the initiative along with Dr. Lamis Karaoui, clinical assistant professor and director of experiential education, and Dr. Aline Saad, clinical assistant professor and pharmacy practice chair.
Saad explains that collaboration with the ministry had started last spring. "A lot of time has been spent on developing the syllabus in order to guarantee that students will get the best out of this experience while providing the ministry with valuable input in return." Indeed, students will be part of different official public health projects including awareness campaigns.
The activities the students will be involved in are not merely regulatory, says Btaiche, there is also a big part dedicated to patient care. "The students will spend time at the National Aids Program and different dispensaries and will therefore have the chance to counsel patients, educate them, and interact with physicians," he says.
"This is a first-of-its-kind rotation," says Karaoui. "There is very little literature about regulatory affairs in general. It is usually a residency or a fellowship with industrial companies, so this is a very exceptional program, and we are proud to be the leaders in this area" she adds.
LAU's School of Pharmacy is a full member of the American Association of Colleges of Pharmacy (AACP). Currently, the Doctor of Pharmacy program at LAU is the only one outside the United States of America that is accredited by the Accreditation Council for Pharmacy Education (ACPE). The initial accreditation review took place in 2002, when full accreditation was granted. Hence, Pharm.D. graduates are eligible for licensure as pharmacists in most US states and provinces.