A fruitful link-up
Prominent LAU alumni discuss career prospects with School of Engineering students.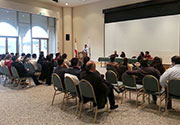 Calling the event a success, the Alumni Relations Office hopes that other schools will follow suit.
Earlier this month, the School of Engineering (SOE), in collaboration with the Alumni Relations Office and the LAU Alumni Association - SOE Chapter, orchestrated a panel discussion tackling employment and career opportunities for engineering students in the local and global marketplace.
Five prominent LAU alumni — Joe Hawa, Rana Zeitouny, Chadi Nehme, Carine Baroudi Barakat, and Christian Manoukian — moderated the discussion, shared their own experience in the job market, and addressed engineering students' questions and concerns regarding the Lebanese marketplace.
"This is an excellent opportunity for SOE students to congregate and make the most of our alumni's experience and candid words of advice," said Dr. George E. Nasr, dean of the School of Engineering, at the onset of the discussion.
Reminiscing about his olden days as an undergraduate at LAU, President of the Chapter Hawa heartily recalled receiving a call from Abdallah El Khal, director of Alumni Relations, asking him to join the LAU Alumni Association. "It was quite an unexpected phone call — I had graduated almost ten years ago!" said Hawa in jest, "But it was certainly a pleasant surprise," he then warmly added.
Hawa stressed the momentousness of forging a strong and resilient network of alumni, as it allows to do much more than simply stay in touch with one's former classmates — it helps to establish healthy and fruitful work connections, as well.
"Many people try to work in other Arab countries right after they graduate, but when they come back to Lebanon, how can they find a job? How can they get an idea of what the job market is like? This is where the Alumni Relations Office comes in," he said.
Carine Baroudi Barakat, recipient of the BLC Bank "Woman Entrepreneur of the Year" award for the year 2012, shared her entrepreneurial venture at Entotox Public Health, a company she acquired in 2000 and is still running today. Speaking highly of the university's teachings and scholarship, Barakat said "I couldn't have gone this far without my alma mater, my family, and my fellow classmates," all of whom provided her with both the skills and self-confidence she needed to make it this far.
"When we are in contact with one another, we can open doors to each other. LAU alumni are one family, and we support each other any way we can," she added.
El Khal called the event a success, hoping it will foster closer ties among students and between alumni. "We aimed to reconnect SOE alumni with their school, and to allow the students to benefit from their experience," he said. "It was the first encounter of its kind and we encourage all schools to follow suit."