Medical students reopen clinic in the Bekaa
After two years of hard work by students, LAU officials and local representatives gather to reopen a dispensary in Nabha.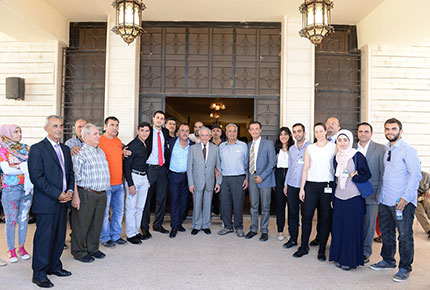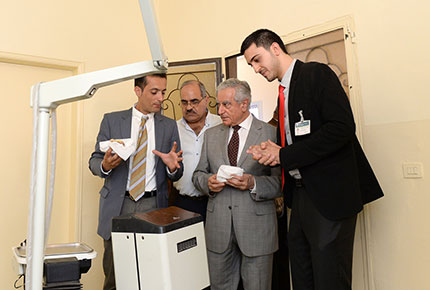 A group of students from the Gilbert and Rose-Marie Chagoury School of Medicine's class of 2016 were in the northeastern town of Nabha on Wednesday to celebrate the culmination of two years of dedicated hard work. "It is very rewarding to feel you have done something for the betterment of your country," says medical student and current head of the Student Medical Society (SMS), Ghid Amhaz. "As I am from Nabha, it was extra special for me."
Amhaz and her fellow students gathered, along with dozens of jubilant local residents, at a local community center to celebrate the reopening of a local clinic and dispensary that had been shut for decades. "When we first visited the site a couple of years ago it looked deserted, as if the doctors had suddenly left and closed the door behind them," she says. "Dust had gathered on old waiting room sofas and medical equipment, and there were needles on the floor."
The clinic in Nabha was selected, by consensus, from among four different projects proposed. "The other clinics were up and running but needed development, but the 8,000 residents of Nabha had no clinic to go to for primary healthcare," says fellow student Mohamad Noureldine of the research and selection process the student group faced two years ago.
To achieve their goal, the group held fundraising events on campus, while negotiating with corporate donors and suppliers and liaising with the Ministry of Health and the local municipalities of Nabha, a town that was divided into four distinct districts during the civil war. "That is politics," said Hussein Amhaz (not related to Ghid Amhaz), a representative of Nabha Damdoum, where the clinic is located. "We are here united, crescent embracing cross. The clinic will serve us all, and for that we are grateful, to LAU, its students, and to our very own Dr. Ghid Amhaz," he added.
Amhaz, now a fourth year medical student, first joined LAU as a biology student through the MEPI Tomorrow's Leaders (MEPI-TL) scholarship program. "This program had a huge impact on me, and through it I had previously been involved in fundraising activities," she says. "So it was natural to bring together the SMS and MEPI to ensure the success of this project."
Together, medical and MEPI students manned stalls on campus selling food and merchandise, and held a music concert to raise the cash needed to renovate the disused clinic. "We hired locals from Nabha to undertake the renovations, thus benefitting the town further," explains Layla Al Bizri who, like Amhaz, is an LAU MEPI graduate and class of 2016 medical student. "And we used a $2,000 donation we received from the Georges Khoriaty Foundation to purchase the primary healthcare equipment needed to open a functioning clinic."
The clinic will be manned by medics — some as volunteers and others hired by the Ministry of Health — most of whom now work in hospitals in Baalbek, the nearest of which is about 40 kilometers from the new clinic.
A tour of its three fully equipped rooms followed the reception at the community center during which LAU President Joseph G. Jabbra spoke enthusiastically about the achievements of the students before him. "This clinic will serve 20,000 residents of Nabha and its surrounding towns. We proudly thank the School of Medicine and our students for their medical and humanitarian service. We are all delighted to be here in the Bekaa among its naturally loving and nationalistic people."