A house of style
LAU alumna ('98) Tania Shaheen wins top accolade from the American Society of Interior Designers.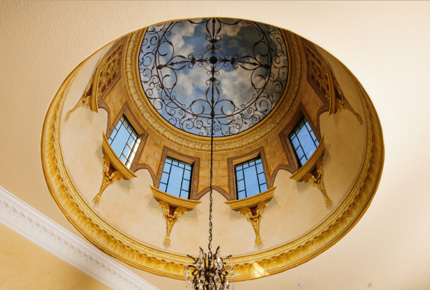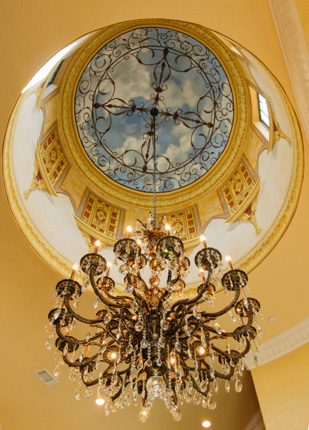 The prestigious American Society of Interior Designers (ASID) recently recognized an LAU graduate for outstanding achievement. Alumna ('98) Tania Shaheen took home the honorary award for the residential-architectural feature or element for her work on a dome in a residential house. With over 15,000 practicing interior designers ASID is the oldest and largest organization for such artists.
"This award means so much to me on a personal and professional level. It is a huge honor to be recognized by your peers and ASID has the greatest influence in our field, so it's very meaningful," Shaheen says. Each year, the ASID Texas Golf Coast Chapter hosts a gala dinner and an annual award ceremony that recognizes the work of interior designers in both residential and commercial categories.
"The idea is that you take a space—a small space—and you try to make it functional and appealing to the eye," Shaheen explains. "For my project it began as an empty white dome with four windows which was not at all appealing."
Employing the trompe l'oeil technique Shaheen painted the surface with a cylinder—12 feet in diameter and 9 feet in height— and topped it with half a sphere. "One challenge was incorporating the four windows into the design. So elements of multiples of fours were used: four windows, four panels, eight arches, eight corbels, four repetitive metal work, 16 metal chandelier arms," she adds. Adding a further layer of difficulty was unifying the design of the dome with the crown molding of the room. "To overcome this, an imitation of the 3D crown molding was painted in 2D."
Since graduating with high distinction from LAU in 1998, Shaheen has been working and living in the United States. The university recognized her immense potential when she was selected as the recipient of the "Best Designer Award" in 1998. To be successful in the field of interior design one needs to perform well under stress to meet deadlines, stay on budget and stay true to clients' needs, all skills Shaheen says she developed at LAU.
"This university has been instrumental in my professional success mainly because the interior design program is so well rounded—the instructors are all from diverse backgrounds—so when we graduate we are well equipped to start working right away," she says.
Though living thousands of miles away from her alma mater, Shaheen makes every effort to stay connected, most recently hosting a Christmas dinner for alumni in Texas. "LAU has many graduates spread out all over the world, no matter where you go you will find an LAU graduate who can help you," she says. "It feels like home."